Home
/
Blog
/
Blog
/
How to Make Your Piano a Focal Point of Your Holiday Celebrations
Mon, Nov 14, 2022 at 9:00AM
---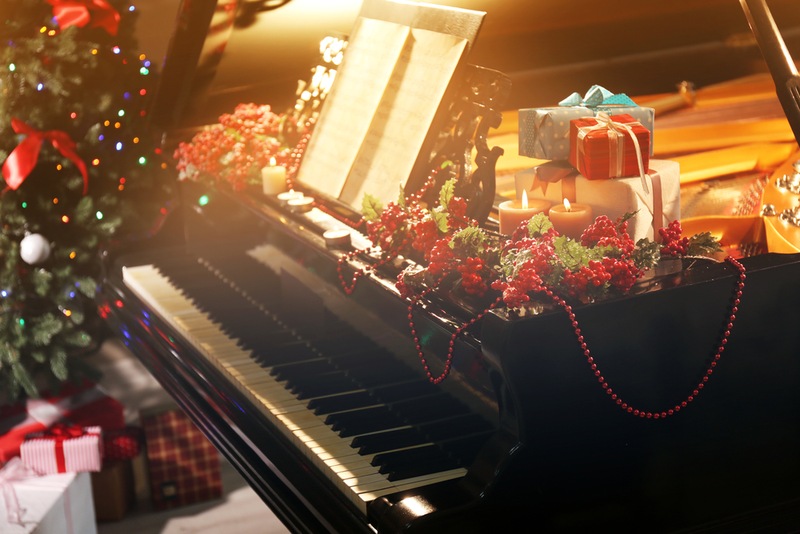 Music and the holidays are an inseparable duo. Few things can bring about the warm nostalgia of the season like the familiar sound of a Christmas carol or a classic holiday song. One of the best ways to enjoy those tunes is by playing them on your piano with friends and loved ones at a holiday celebration.
If you want to incorporate some seasonal sounds into your holiday and create cherished musical memories for you and your loved ones, take a look at these tips for making your piano the focal point of your holiday celebrations.
Decorate It
Pianos are already beautiful all on their own, but if you decorate yours for the holidays, it will become a clear focal point for anyone who sees it. You can create a Christmas village on top of the piano, wrap it in lights, hang garland on it, give it its own Christmas tree, or whatever else you can think of.
Tune It Up
An out-of-tune piano will quickly take the wind out of your holiday celebration's sails. Just a few sour notes will steal all the seasonal cheer from the room in a hurry. Make sure you've tuned it so that everything comes out pitch-perfect when the time comes for your sing-along.
Have a Piano Moving Company Place It Front and Center
If your piano is tucked away in a distant corner of the house, or your holiday celebrations are being held in another area of the house, it's unlikely that you'll be able to hold the holiday sing-along you were hoping for.
You want your piano to be at the heart of the celebration so that the music comes naturally, whether that means holding the celebration in the piano room or calling a piano moving company to relocate it.
Get Some New Sheet Music
There are countless books of holiday sheet music out there. If you've been using the same old one for years, maybe it's time to freshen up the repertoire with a new one. A new list of songs can inspire you to rehearse and your loved ones to sing along.
Practice Your Songs
Another way to put a damper on the seasonal sing-along is to forget how to play the tunes you've learned. Think up a nice list of holiday songs you'd like to play and practice them as much as you can well before your holiday celebration.
Most people will find a perfectly performed version of "Silent Night" on the piano moving, but if you haven't practiced and you're hitting sour notes, they may call a piano moving company to get that thing away from you.
Try to Keep It Simple
If you're an advanced piano player, perhaps this tip doesn't apply to you, but if you're anything less than advanced, then it probably does. The best way to make sure your holiday sing-along goes off without a hitch is not to overcomplicate your song list or try to learn too many new songs. Stick to a solid list of tunes everyone knows.
Add Some Instruments
The holidays are about finding harmony, so why not do that in a musical sense, too? If you have loved ones who play other instruments, invite them to bring them along and join in the fun. Nothing reveals the true magic of music like multiple instruments played in harmony.
Encourage Everyone to Sing
People can be shy about singing along even when they're enjoying themselves, but every holiday sing-along is made better with each additional voice added. Encourage your loved ones to join in and remind them that everyone can sing.
---
Bookmark & Share
---
User Comments
Be the first to comment on this post below!