Home
/
Blog
/
Blog
/
The Joy of Piano Communities: Finding Like-Minded Pianists in Your New Area
Fri, Jun 02, 2023 at 10:18AM
---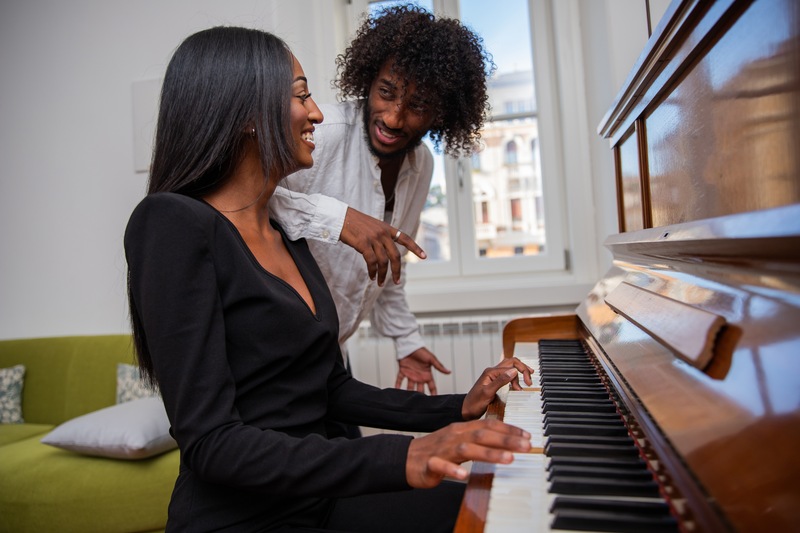 So, you're making a big move, and you're bringing along your trusty piano - awesome! Moving is more than just packing boxes, hauling furniture, and partnering with an expert piano moving company, especially when you've got a love of music in the mix. It's also about diving into a new scene, finding piano pals, and sharing the love of keys. Sure, it can seem a bit overwhelming, but don't worry - we've got your back. This article is all about the fun of piano communities and how to find your keyboard compadres in your new neighborhood.
The Heartbeat of Piano Communities
Piano communities are pretty special. They're more than just a group of folks tickling the ivories - they're a band of music lovers who get you. Every shared tune, every collective gasp at a beautiful melody – that's what it's all about. So, when you step into your new piano community, remember: you're not just joining a group. You're joining a music-loving family.
Getting the Hang of Local Piano Scenes
Before you dive head-first into your new location's piano community, take some time to feel out the music scene. Is it a formal conservatory? A laid-back gathering in a jazz bar? Every location, group, or venue has its own unique rhythm, and the quicker you catch it, the smoother your transition will be – and the easier it will be to find connection in an unfamiliar location.
Making Friends with Fellow Piano Lovers
Now comes the fun part. Making friends in your new piano community involves some adventure and a daring spirit. Dive in headfirst to local concerts, join jam sessions, or take part in music workshops. The more you get involved locally, the faster you'll find your very own piano pals. Plus, you'll probably pick up a thing or two from these strangers and expand your musical repertoire along the way.
Online Piano Communities – A World at Your Fingertips
In today's digital age, you're never more than a click away from fellow pianists. Online piano communities are like a global music hall, bringing together piano lovers from all corners of the world. You can share ideas, learn new techniques, and even perform for each other, all from the comfort of your living room. So, take advantage of these platforms, too - they're a fantastic resource! No matter where you roam, you're never too far apart to enjoy a love of music.
Music Stores and Piano Movers – The Unsung Heroes
You know what's surprisingly good for meeting fellow piano enthusiasts? Popping into your local music store. These places are more than just hubs for buying and selling instruments. They're gathering spots for musicians of all stripes. That guy testing out the newest keyboard model? He could be your future duet partner. The woman browsing sheet music in the corner? She might know about a piano group that's just right for you.
Music stores also often host events like mini-concerts or workshops, perfect for getting to know the local piano scene. The staff at these stores can be a wealth of knowledge too, they can give you the scoop on upcoming piano-related events or introduce you to other customers with a shared interest in the piano.
We can't forget piano movers, like our experts at Modern Piano. Safe travels are pivotal in the piano community, and Modern Piano strives to prove quality instrument care and expert moving services. We aim to make sure your piano arrives safe and sound, so you can focus on getting in tune with your new community.
Joining Local Piano Competitions and Festivals
Don't shy away from local piano competitions and festivals! They're a goldmine of potential friends and experiences. Sure, they can be a little nerve-wracking, but they're also loads of fun and a great way to show off your skills. Plus, there's no better way to dive into your new piano community than by participating in its traditions and events.
As you start your new piano adventure, remember that it's not just about playing music - it's about finding your place in the rhythm of a new community. With a little help from trusted piano movers like Modern Piano, you can rest easy knowing that your beloved instrument will make the journey safely along with you. So, here's to new beginnings, new friends, and many joyful music-filled days to come!
---
Bookmark & Share
---
User Comments
Be the first to comment on this post below!