Home
/
About
/
5 Steps To A More Accurate Quote
Modern Piano Moving has a full-time sales department with the knowledge to provide an accurate, detailed quote over the phone. During the quoting process, we ask a series of questions that will provide specific information about your move and will allow us to properly estimate and prepare for your situation.
IF A MOVE IS QUOTED WITHOUT ACCURATE DETAILS IT MAY CHANGE THE PRICE AND TIMING OF THE MOVE.
1. OFF-ROUTE MILEAGE
Modern Piano moves pianos to homes and businesses across the continental United States.
Using standard trucking routes, our nine crews pass through every major city in the lower 48 approximately every four weeks. Not everyone lives in a major city or directly off of our standard route. Modern Piano is happy to accommodate all moves! We do have to include additional mileage charges for areas more than 20 miles from our standard routes.
We have provided a mapping page to assist in determining if your city is off-route. Blue markers indicate cities on our route. Orange markers indicate some examples of cities that would incur additional mileage costs.
Click here to see our interactive map
2. PIANO TYPE AND SIZE
Type and size of a piano is one of the primary factors of your moving estimate. Space on the truck, weight, and navigating difficult circumstances are all part of estimating a safe move.
If you have a grand piano that is 6 feet or longer, please provide the brand name in the quote. Some pianos are much heavier than others and may require additional manpower.
Heavier brand names include Bluthner, Bosendorfer, Chickering, Mason Hamlin, and Petrof
The graphics below will assist in determining an accurate size based on Modern Piano's quoting system.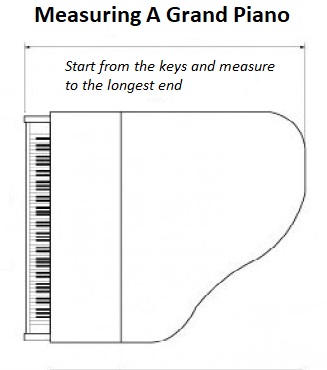 3. ELEVATORS - STEPS - TURNS
If your move includes an elevator, steps, or hard to navigate turns, we will ask for pictures and/or measurements. Photos are received at pictures@modernpiano.com. Always include a quote or order number as well as a name.
Occasionally, we are unable to determine if an instrument will fit into a tight space using photos and/or measurements. In these circumstances, we encourage our customers to have us perform an evaluation in person. The fee for an on-site evaluation is $100. This fee will be deducted from the move if scheduled.


ELEVATORS
All elevators are not created equal. Fitting a grand piano into an elevator can be awkward. We will ask for the dimensions of the interior of the elevator including height as well as the dimensions of the door.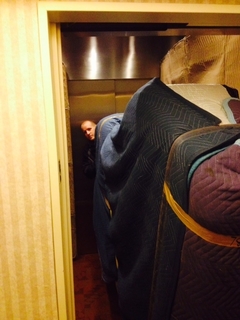 WILL IT FIT? TIPS FOR MEASURING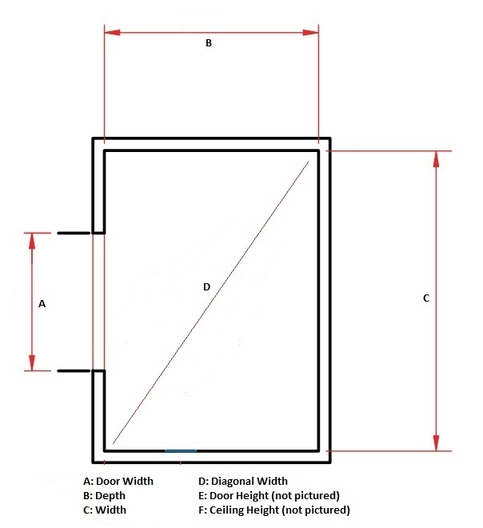 STEPS
We carefully plan a piano move involving steps depending on several factors - Number of steps, number of turns, going up or down.
Steps may require additional labor and/or equipment. If you would like to provide a hand with your move, we can often waive the additional labor charges.
WOODEN DECK WITH A LANDING AND TURN
What may look like wide steps and a large landing can quickly present a challenge for a piano.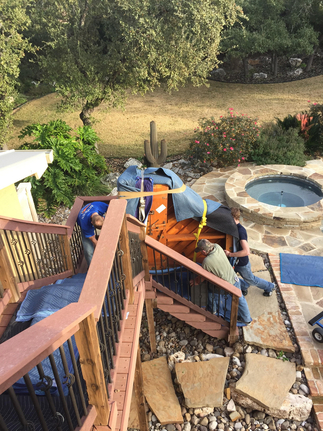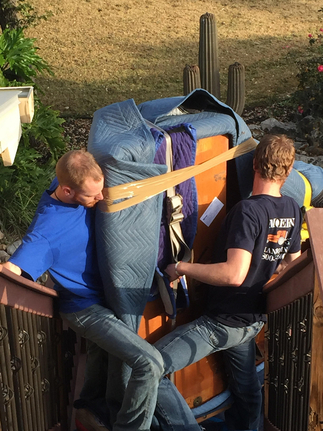 TURNING STAIRCASE MOVE
Turning staircases take special care because the piano is in a constant, turning motion. This type of staircase is considered a flight with two turns.
A View From The Top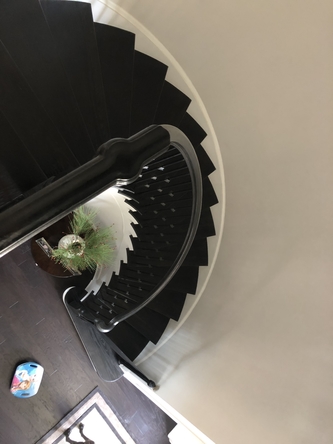 The following video is the real-time move of a baby grand piano going up the staircase above.
WILL IT FIT? TIPS FOR MEASURING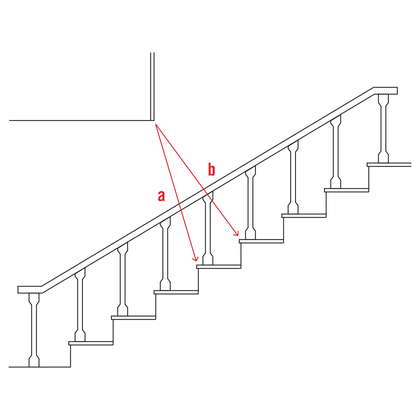 Measurement A: Measure the most narrow, vertical point on your stairway. Start from the corner of the ceiling and measure to the top of the stair closest to the ceiling.
Measurement B: From the same point on the ceiling to the top of the stair above the stair you just measured to previously.
(Not Pictured): Width of the stairwell, going from wall to wall. If you cannot remove the hand rail, then measure from the wall to the hand rail instead.
Comparing these measurements to the height and width measurement of your instrument should confirm if your piano will make it past your staircase.
The majority of stair landings are a rectangular shape, but don't assume this means your delivery team can easily get your piano past this point. The key here is leaving enough space for your delivery team to get your item around the corner.
Image and measurement info from: The Brick
Stairs With Turns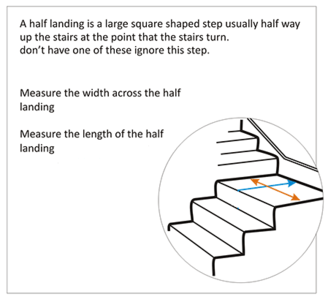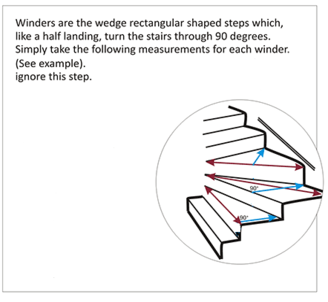 TURNS
Turn details are extremely important. Often, we think of turns as landings within the staircase, however, a turn can also be the space at the bottom or even an entry with a wall close to the door.
BOTTOM OF STAIRWAY TURN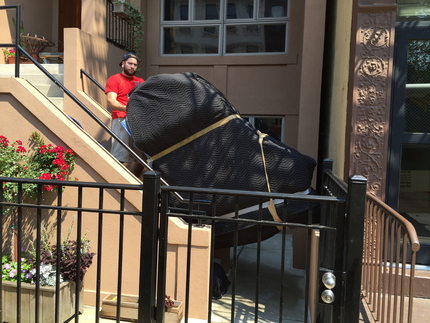 DIFFICULT LANDING TURN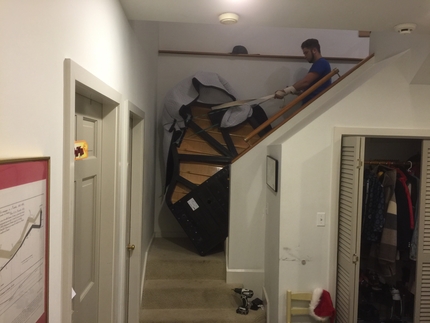 INTERIOR STAIR TOP TURN APARTMENT STAIRWAY TURN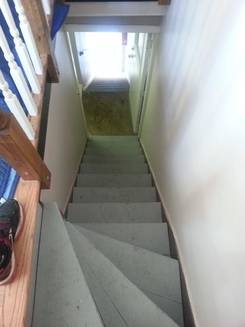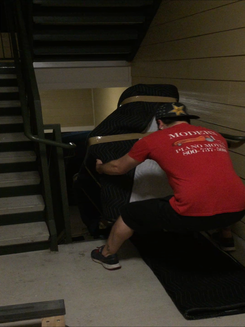 4. STORAGE UNITS
Modern Piano can provide affordable, climate controlled storage during your move if needed. Rather than have us deliver to a facility, it may save time and money to store with us. Click here if you would like to see our storage contract and pricing in PDF format.
If our trucks are not able to park closely at a storage facility, there may be additional charges.
MOVING OUT OF A STORAGE UNIT
Piano must be accessible, we are unable to move furniture or personal items
Grand pianos, must be set up so we can inspect the exterior condition
Pianos not set up will incur an $80 set up fee or travel as "packaged by owner" with no valuation
MOVING INTO A STORAGE UNIT
A place for the piano must be accessible
Grand pianos must be set up so we can retrieve our equipment
5. TRACTOR TRAILER ACCESS
Our trucks are approximately 70' long and 13' tall.
During the quoting process, we will ask if there is access for a tractor trailer to park on your street. Streets should be wide enough that, without double parking, a lane of traffic can safely get by.
If your street cannot accommodate a tractor trailer, we will shuttle the piano. Typically, we either use an ATV with a custom-made trailer or we will rent a smaller truck.
OUR TRUCKS IN NEIGHBORHOODS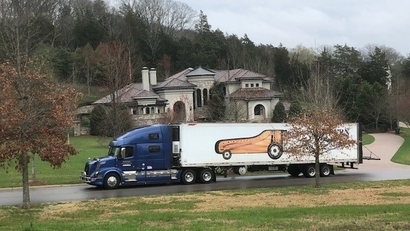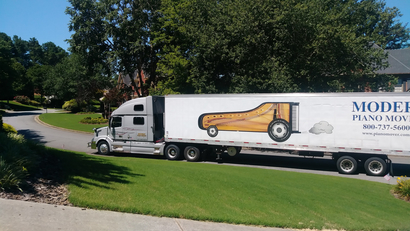 OUR ATV/CUSTOM TRAILER SETUP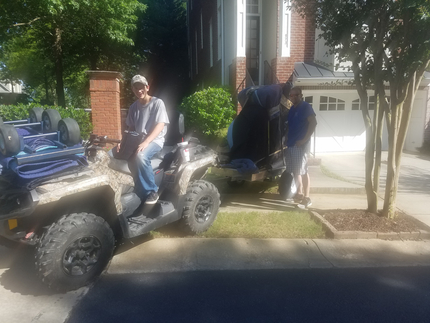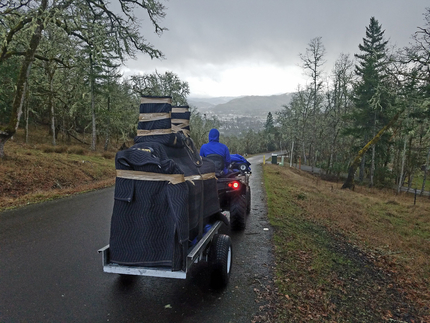 SITUATIONS WHERE WE TYPICALLY NEED TO USE A SHUTTLE VEHICLE
Downtown areas
Lake properties
Historic neighborhoods
Brick, paver, or cobblestone streets
Private lanes
Mountainous areas
Islands
Driveways longer than 400'
Single entrance apartment or condominium complexes
EXAMPLES OF CITIES WE FLAG FOR SHUTTLE VEHICLES
Baltimore
Chicago
Durango
Kansas City
Los Angeles
New Orleans
New York
Philadelphia
Portland
San Francisco
Santa Monica
Seattle
Telluride
Washington DC