Home
/
Blog
/
Blog
/
Your San Diego Piano Movers' Guide To A Pet-Proof Piano
Mon, Apr 26, 2021 at 7:24PM
---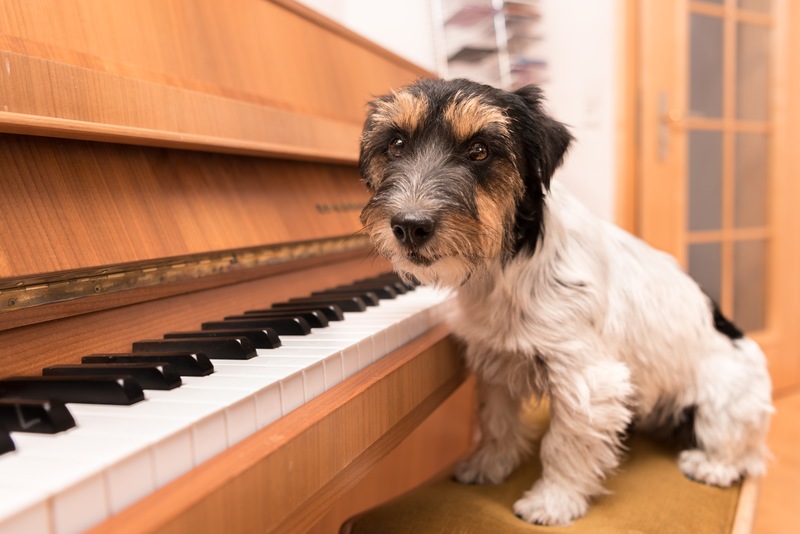 For many piano players and pet owners, there is no greater audience than your furry friend! From dogs to cats, studies have shown that pets do respond to live music in fun, unexpected ways, so it's fun to have them around as you practice or perform — of course, that doesn't mean you want them to be crawling all over your instrument. Here are a few helpful pet-proofing tips we've learned as your go-to San Diego piano movers.
Don't Let Your Dog Or Cat On Your Piano
This first tip may be a no-brainer, but it's easy for pet lovers to forget — especially since your dog or cat probably looks super cute seated atop your instrument! While a lightweight pet likely won't do serious damage to your instrument, their nails can potentially scuff your piano's beautiful finish. Their hair and fur can also get on (and in between) your keys, which is added mess you won't want to waste time cleaning.
Consider A Piano Cover
A piano cover can be helpful for protecting your instrument when not in use — the only problem here is that you want to admire the look of your piano and probably play it, too, and removing and replacing a piano cover can be a pesky step. If you are not using your piano for the time being (perhaps you're moving, or looking for a new home), why not store it with Modern Piano? This will help keep your instrument safe when not in use, so you don't need to worry about keeping your pet away at all times.
Keep Your Piano In A Separate Space From Your Pets
If possible, when deciding where to place your instrument, put it somewhere that isn't a high-traffic pet area. This may make it easier for curious cats and dogs to steer clear of your piano altogether.
Add A Comfy Bed Nearby
Conversely, if your pet loves to hang out while you play (and there isn't too much room for them to relax elsewhere), be sure to add a comfy bed or post near your piano. This will encourage them to be in the same space without climbing onto your actual piano.
Take Special Care On Moving Day
If you're moving in the near future, be sure to take special care of your pets on the day-of. It can be a stressful time for them, especially if you are moving heavy objects like your piano. Fortunately, we can take care of this aspect of your move so that you can safely watch your furry friend indoors!
We hope that these tips help you keep your instrument safe and furry friends happy! Remember, if you need help moving or storing your instrument, Modern Piano is here to help. Call us today to learn more.
---
Bookmark & Share
---
User Comments
Be the first to comment on this post below!