Home
/
Blog
/
Blog
/
Turn Your Spare Room Into the Perfect Piano Room
Fri, Jul 31, 2020 at 5:30PM
---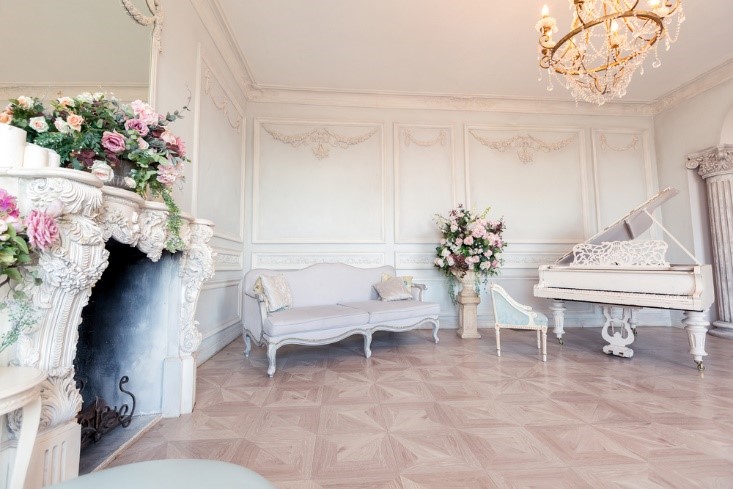 In the midst of this pandemic, our homes have become so much more than our living space, they've also become our schools, restaurants, and gyms. The square footage of spare rooms has become increasingly precious due to the options that it provides homeowners. Now is a better time than ever to devote that spare space to a piano room as a showcase for your beautiful instrument, as well as a den for your family to be alone with their music. Continue reading for our guide on how to best convert that extra room into the perfect piano room.
Soundproofing
If you are electing to create your very own music studio within your home, the first thing you need to consider is soundproofing the walls, otherwise the wondrous music you make with your piano may disturb the other residents in your home. This can be easily done at home with either soundproofing or household materials by hanging thick blankets and quilts over the walls. Hard surfaces will reflect and amplify sounds, but soft surfaces will absorb the noise and dampen it for neighboring rooms.
Location, Location, Location
Now that you have designated which space will be your special piano room, your next challenge will be balancing the rest of the room around your piano. Use the environment, such as the windows, furniture, and appliances, to find the perfect spot for your instrument. A piano is not just a magnificent object to fill space and complete a room, it is also the ultimate centerpiece. With that being said, do not place your piano in a spot that is exposed to consistent sunlight and temperature as it will become damaged over time.
Set the Scene
Music is a different experience for everyone, and everyone has their own unique inspiration. While designing your piano room, consider the things that ignite your passion and inspire you to play. If you dream about playing in front of a full symphony hall, decorate your room accordingly. Alternatively, if you cherish your tranquility and isolation, try dim lighting or something that fosters a feeling of comfort inside you.
Modernize It
A classical piano may not fit into the pre-existing aesthetic of your home, especially if you are moving it into a room that you were already using for another purpose. That is no problem because you can use modern accents to help your piano feel like a more appropriate addition to any aesthetic. If necessary, consider a little renovation for your piano, a fresh finish may be just what it needs to fit right in with the rest of your space.
Even if you need to move your piano from one room to another, we will make it no problem at all! Modern Piano Moving understands the value of each piano and it is our mission to treat each piece with the utmost care and concern. Whatever your situation is, we will come prepared and move your piano with the delicacy that it deserves. Contact us today and let us help you deliver the finishing touch to your piano room!
---
Bookmark & Share
---
User Comments
Be the first to comment on this post below!