Home
/
Blog
/
Blog
/
3 Tips for Learning Piano During COVID-19
Fri, Jul 31, 2020 at 3:13PM
---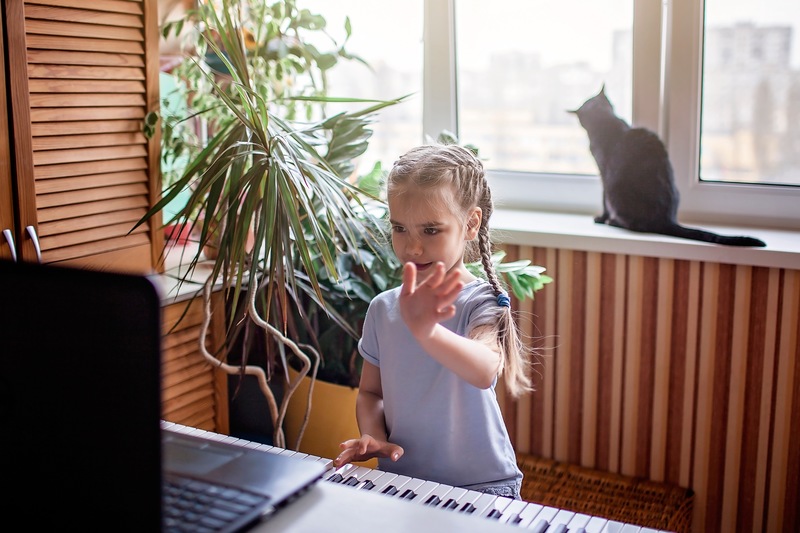 As we all continue to spend some more time at home, you may be wondering how to brush up on your piano skills—or help your family member learn how to play, too! Fortunately, you can make great progress without ever leaving home or inviting someone else into your home. Learn more below.
Try virtual lessons
You may not want a piano instructor to visit your home these days, or have your family member visit a studio for in-person practice. But who says you have to stop working with your favorite instructor altogether? Ask your trusted piano instructor (or even a new one!) and see if they would be willing to conduct lessons by video chat. Chances are, they would be happy to help continue your piano education through this modern medium. Fortunately, so much of playing the piano revolves around sight (seeing the keys, the sheet music, your own fingers and posture) and, of course, sound, two areas that can be communicated across video.
Consult the internet wisdom
Of course, the internet is a never-ending repository of content to learn from—including piano performances from the greats, as well as step-by-step videos explaining beginner's techniques. Wherever you are on your piano playing journey, there are free resources available for you to take advantage of this summer and beyond. You can even get the whole family involved in this self-taught method!
Practice makes perfect
If you find that your days are blending into one another this summer, you're not alone! Being at home more often, with much of our normal summer routine disrupted, means that it can be hard to find ways to make every day feel fresh and exciting. Fortunately, learning the piano is one way to change that. By starting a piano practice regimen, you can build your skills while breathing new life into every day—suddenly, that blur of a week becomes a clear memory of learning how to play a difficult song, master your sight reading or perfect your playing posture!
We hope that these tips help you and your family learn the piano this summer. And of course, if you need California piano movers—or help storing or moving your piano anywhere across the country—Modern Piano is here to help! Contact us today and receive an instant quote to get started. We'll move your piano on a schedule that is convenient for you, so you don't need to interrupt your practice progress!
---
Bookmark & Share
---
User Comments
Be the first to comment on this post below!