Home
/
Blog
/
Blog
/
Piano Playing as a Family Tradition: Passing Down the Love for Music
Fri, Jun 02, 2023 at 10:18AM
---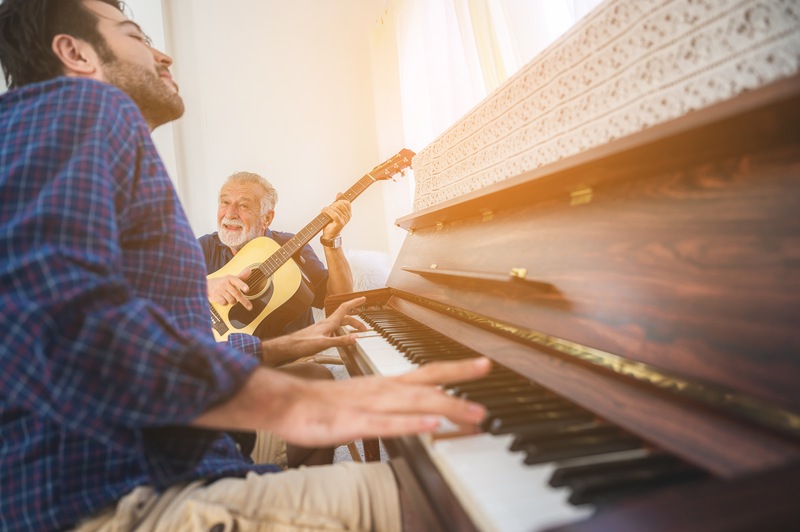 Whether nestled into a cozy living room or presiding over a spacious hall, a piano isn't just an instrument; it can act as a storyteller to tell a family's shared musical journey. When a piano becomes a family tradition, it's not just a decoration – it's a wellspring of memories and a beacon highlighting the unifying power of music. So, whether you hold onto dear memories of piano lessons with Mom or store Grandpa's sheet music to hang down to the next generation, we can all agree that a love of music can be a powerful force in a family. Read on to celebrate all the reasons why we're so thankful to share the experience of playing the piano!
The Magic of Music
From grandparents to toddlers, each family member finds a unique way to interact with the family piano. Whether you're joining in a chorus of 'Happy Birthday' before blowing out the candles or attempting a complicated piece with a sibling while joking about, there's a way in which the piano tends to quietly record family history. And that's the magic of music – a simple shared legacy. What a wonderful treasure to pass on to your children!
An Intangible Legacy
Piano playing isn't just about mastering an instrument or honing a skill. Have you considered the other roles it takes in your homes? Music can also shape a sense of belonging and serve as a bridge to connect generations. Ever noticed the family delight in watching a child conquer the same piece that their great-grandparent once played? Or, what about enjoying the delight of watching a teenager reproduce their old favorite lullaby on the keys? These shared memories should be cherished, as they stand even beyond material possessions. Family heritage can be found in all places!
The Role of the Piano
So, with all that in mind, what function does the piano take within a family? Well, it's not just a musical instrument. Think beyond the keys and sheet music. Your piano stands as a witness to plenty of personal milestones – birthdays, anniversaries, graduations, and weddings can all be enhanced with a shared love of music. Isn't it magical how a piano can embody this sense of history – and bring it all back to life with a shared favorite song? We think so, too!
Piano Playing as an Adventure
The journey of learning to play the piano is an adventure. Do you remember your first few attempts at a song? Every new piece presents a challenge, every mastered song, a triumph. This journey, like any good adventure, is filled with highs and lows, challenges, and triumphs. But with patience and perseverance, the reward is a lifelong skill, an appreciation for music, and an heirloom to pass on to the next generation. That's plenty of cause for celebration!
Maintaining the Tradition
Just as a tree needs water and sunlight to grow, a piano requires care and nurturing to maintain its excellent performance. Regular tuning ensures that the music sounds its best for years to come. Also, be sure to care for a piano's positioning – reflective of its needs for temperature and humidity sensitivity. Choosing the right room for a piano can make a big difference in its future condition and longevity.
But life can sometimes prompt a transition - like a shift to a new home or city. This journey, however, should be embarked on with caution in mind for your family piano, ensuring the precious musical heritage is preserved and passed on.
Safeguarding and transporting a valued possession like a piano demands a partner who understands the importance of the task. Modern Piano Moving shines in this role, ensuring that your cherished instrument is moved with utmost care and professionalism.
We understand that each piano is a storybook of family history. Therefore, when moving your beloved instrument, we make sure it is treated well as an irreplaceable part of your family's heritage!
Ultimately, piano playing is not just about hitting the right notes. It's about preserving a part of who you are and passing it down, note by note, to future generations. It's a simple, yet effective bit of musical magic. Here's to the enduring love for music, to the cherished family traditions, and to the shared melodies that bind us all together! When you're ready to begin safely moving your piano to a new location – and keeping the music going in the process – reach out to Modern Piano Moving to begin your piano moving journey.
---
Bookmark & Share
---
User Comments
Be the first to comment on this post below!