Home
/
Blog
/
Blog
/
How to Clean Your Piano Like a Pro
Tue, Dec 21, 2021 at 9:00AM
---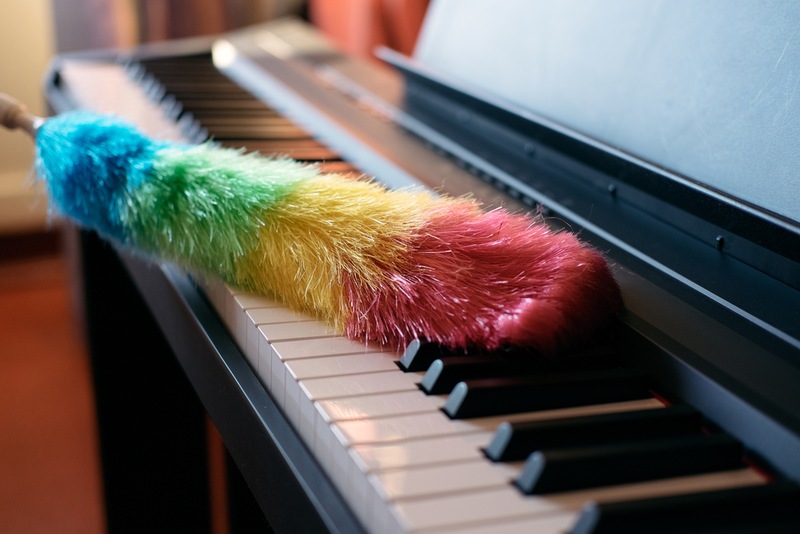 Just the way you need to maintain and tune the various inner parts of a piano, you need to care about its outer appearance as well. The beautiful instrument may be large and solid looking, but it requires delicate and detailed attention to keep it looking shiny and cared for.
Here are a few tips on how to clean and polish your piano like a professional from our team at Modern Piano, your trusted Denver piano movers.
Clean hands, clean keys
Most of the dirt and stains that appear on your keys are a result of unclean hands being used to play the piano. It is important that every time you or someone else sits down to play, you give your hands a quick wash. When your piano is not in use, you should pull the lid down over the keys to avoid dust and other debris from building up on the keys. Using a feather duster or a soft cloth over your keys to remove dust regularly is a great way to prevent any buildup from entering inside your piano.
Don't use paper towels or any cloth made from a rough and dry material as these will scratch your keys and leave marks on them. Also, be sure to avoid using any damp or wet cloths, as these could cause greater damage to the health of your piano.
Caring for your piano's exterior
Spills, sunlight, fingerprints, and watermarks are all culprits when it comes to damaging the appearance of a piano. Before you clean the exterior of this instrument, it is important to ensure that it is placed in a spot where the humidity is under control, and it is not in a position to receive direct sunlight or cold drafts. Regularly use a feather duster to keep dust from accumulating on your piano.
The don'ts of piano cleaning
Now that you have a basic understanding of how to keep your piano in pristine condition, we will share just a few of the most important don'ts of piano cleaning. Be sure to always avoid the following things at all costs - your piano may suffer for them:
Refrain from using rough, dry cloths or wet cloths - they can both harm a piano in different ways
Leave interior cleaning to a professional, it only needs to be done once every 5-10 years
Clean one key at a time - broad strokes can trap debris in between keys
Follow these simple tips to keep your piano happy and healthy for a long time. When the time comes to move your piano, the best advice we can give is hiring Modern Piano Moving to transport your instrument with a total dedication to safety and integrity.
---
Bookmark & Share
---
User Comments
Be the first to comment on this post below!