Home
/
Blog
/
Blog
/
How and Why to Clean Your Piano
Tue, Jun 11, 2019 at 1:15PM
---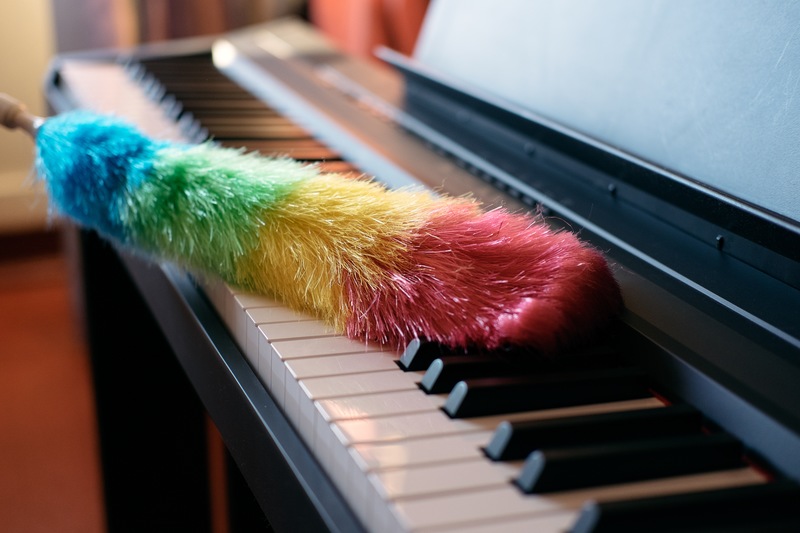 Pianos are typically the focal point in rooms where they're placed. Even smaller models command attention. These days, it's easy to find someone who knows how to play the piano and is willing to entertain a group of friends, or simply play for the sheer enjoyment of doing so.
Sometimes, however, pianos require space with specific considerations to help prolong the life of the instrument. In addition, due to its size, piano upkeep is often overlooked. Though appearing strong and sturdy, your piano actually has many delicate parts that require gentle and close attention to detail.
Thankfully, caring for your piano can be a simple and straight-forward process when you master the basics. Use these suggestions to keep your piano in top shape for decades to come.
Know the Importance of Cleaning
As mentioned, the intricate inner-workings of your piano must be kept clean and free of debris in order to maintain optimal sound and play quality. While exterior dirt and dust can be easy to spot, other areas aren't so simply noticed.
For instance, over time, the space underneath your piano's keyboard accumulates dirt, pet dander, and other debris. Not only will this affect your piano's performance, but the presence of such contaminants could be hazardous to your health and that of your pets and loved ones. Try running a vacuum over the keys. You may also wish to call a technician for a more thorough cleaning.
Sometimes, the problem is less about cleaning and more about simply placing a piano in your home or business. In that case, it's best to contact piano movers who can transport a high-quality instrument from anywhere in the country.
Take Care in Cleaning
As mentioned, it's important to be gentle and focused while you clean your piano. Use a duster to remove surface debris.
It's also wise to keep in mind that piano movers can safely and efficiently ship your piano anywhere in the country. Our trucks are specifically-designed for moving pianos, and our warehouses are climate-controlled and security-monitored at all times.
Practice Preventative Maintenance
Along with cleaning, there are other ways you can ensure the long life of your piano. That includes not placing anything on the instrument itself. If you use a piano light, make sure it has a felt base. This will help avoid scratches and wear/tear on your piano. You might also choose to keep an air purifier near your piano to reduce dust accumulation.
A common question among instrument owners is how to move a piano. Maybe your piano has reached the end of its natural life. Or perhaps there's an instrument in another location that you'd love to play again. You'll find that piano movers' prices are fair and competitive. That means you could be playing a high-quality piano in your current location in no time.
Bring an Instrument to You
In fact, for nearly 85 years, Modern Piano Moving has delighted countless customers across the country. We transport pianos to and from locations across the lower 48 United States. International shipments can also be arranged.
Most importantly, our warehouses are climate-controlled and security-monitored around the clock. Our trucks are specifically-designed for piano moving, and our staff members are highly trained and adept at moving pianos of all shapes, styles, and sizes.
That commitment to customer service and attention to detail is partly how we've earned a stellar reputation as the best piano movers. Contact us today to discover how simple and affordable it is to move a piano to or from your location.
---
Bookmark & Share
---
User Comments
Be the first to comment on this post below!