Home
/
Blog
/
Blog
/
5 Ways to Start Playing the Piano
Tue, Nov 21, 2017 at 2:26PM
---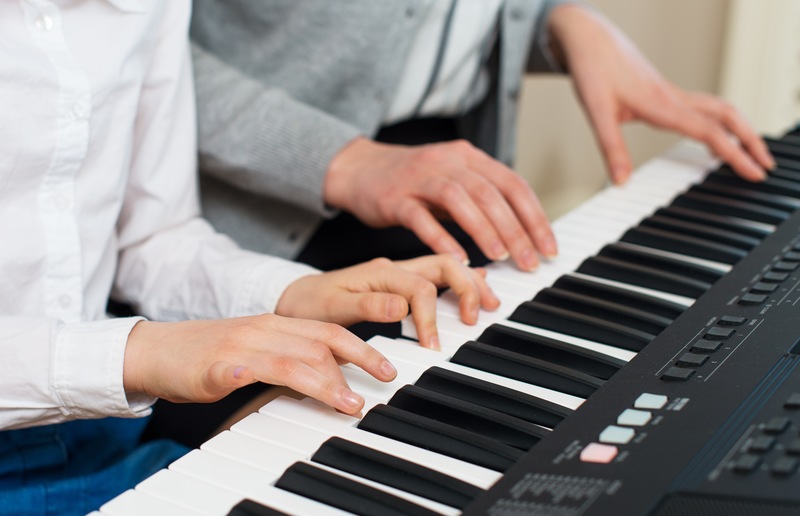 You already know that playing the piano can lead to relaxation, improved academic performance, fond family memories and a myriad of other benefits. All that's left to do now is to start!
Whether you're ready to begin playing the piano, or want to help teach a young musician, we've got you covered. Take a look below to see five simple ways to get started.
Toy around
Looking to share your love of the piano with your child? Long before their hands are strong enough to practice on the "real deal," they can have fun using a toy piano that's built just for them! Being able to toy around with the keys and gain an interest in the music is enough to set up a sturdy foundation for piano fun in the years to come.
Try a keyboard
Interested in learning the piano, but can't quite fit an upright or baby grand in your space? Don't worry. You can opt for a keyboard, one that can easily fold and fit in any space, to learn the basics with comfort and ease. Modern keyboards also come with many different sound options—your keys can sound like a true grand piano, a string quartet, and everything in between. This can make learning the piano that much more fun!
Get inspired
Inspiration is the driving force behind every great musician—and these days, it's easier than ever to find your own. Watch videos online to get an idea of just how far you can take your passion for the piano.
Use piano-playing apps
When you're on the go, you can't quite fit a piano (or even a compact keyboard) in your carry-on bag. You can, however, pull out your phone and get some practice done on a piano-playing app, one that simulates the keys on your screen! Sure, this won't help you practice your posture or perfect form. However, it will let you stay fresh, giving you a chance to familiarize yourself with the notes themselves—and, of course, it's pure fun!
Sit down and play
Of course, there's no better way to start playing the piano than by sitting down and, well, playing. Kids often learn from family members or, in many cases, dedicated teachers. You can as well! Enlist this support to keep you accountable and dedicated to your practice—and it's sure to pay off.
Whichever way you get started, the end result is invariably the same: a lifetime of family fun, enjoyment, and musical memories that are sure to last.
---
Bookmark & Share
---
User Comments
Be the first to comment on this post below!