Home
/
Blog
/
Blog
/
5 Ways to Get Kids Excited About Playing the Piano
Wed, Aug 07, 2019 at 8:44AM
---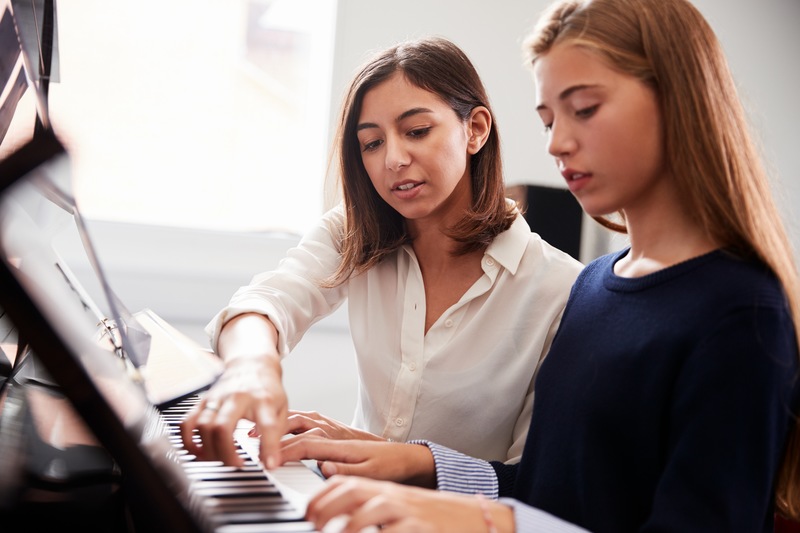 Most children love to be exposed to new ideas and experiences. As youth grow up, they're constantly working to find themselves. This starts by discovering what does and doesn't catch their interest. Of course, as a parent or person involved in the life of a child, you can and should do your part to help kids gain different perspectives and proficiencies.
One favorite past time is playing the piano. The trouble is, many children and youth become frustrated or even quit playing altogether because they don't see the benefit in their lives. Thankfully, there are ways you can encourage and foster interest in playing the piano. Here's how to get started:
1) Know (and Share) the Benefits
Often, hesitation to get involved in activities is due to a lack of full understanding of the benefits. So, you can help your student realize that playing the piano contributes to a better quality of life for them in many ways. That includes:
improving academic skills
helping to develop physical skills (including hand-eye coordination)
cultivating social skills and boosting self-esteem
teaching discipline and patience

One of the best ways to get your student excited about playing piano is to involve them in selecting the very best instrument to match their needs and abilities. That process begins by teaming with Florida piano movers who can safely and efficiently transport a piano to your exact location.
2) Make it Fun
It's no secret that kids love fun and games. You can tap into that natural interest by devising ways to make piano playing more enjoyable. For example, allow children and youth to "compose" short songs and then play them back for you. This encourages them to feel comfortable around the instrument.
Where you place the piano in your home is just as important. No one wants to play in a dark and musty basement, or hot and humid attic. In fact, these locations could actually damage your piano.
The good news is that moving a baby grand piano isn't as daunting a task as it may sound. Instead, when you work with a reliable piano delivery service, you can benefit from expert assistance and advice on piano placement and more.
3) Follow (Don't Set) the Pace
Similar to keeping your approach to kids' piano play light, it's wise to let them learn at their own pace. This isn't to suggest that practice should become a free-for-all, or infrequent occurrence. Instead, use constructive criticism to guide their improvement.
Set realistic practice time-tables based on the child's age, and be sure to focus on positive reinforcement. Over time, this will make your student feel more secure and comfortable around the instrument.
In addition, keep in mind that having a piano shipped directly to your location is a straight-forward and affordable process. The key is to partner with piano movers in Colorado Springs who have a proven track record of success and attention to detail.
4) Keep Rehearsals Brief and Frequent
Just as adults take breaks from work and school duties, it's important that children and youth are able to stop playing the piano when they become bored, or are no longer having fun. One way to avoid such burnouts is to schedule brief rehearsal sessions. These could even be just five minutes, several times throughout the day. Make sure to reward signs of progress and focus.
One way to create this type of learning environment is to place a piano on-site in your home. This way, kids can approach the instrument on their own terms, at times when they're most ready to learn. Reach out to a trusted and dependable Philadelphia piano moving company to have a high-quality piano shipped to your location.
5) Secure Reliable Access to an Instrument
In fact, some of the most successful musicians (both professional and amateur) have attributed reliable access to the piano as one of the biggest reasons why they've excelled and stuck with piano play. Now, you can gain those same benefits by teaming with piano movers in Nashville who care.
Since 1935, Modern Piano Moving has been the trusted resource for transporting pianos to and from locations across the 48 contiguous United States. International shipments can also be arranged. Plus, our trucks are specifically-designed to transport pianos, and our warehouses are climate-controlled and security-monitored around the clock. That gives you the peace of mind that your piano will always be safe and protected. Browse our website to view comments from real, satisfied customers. Then, contact us today to schedule a piano move of your own.
---
Bookmark & Share
---
User Comments
Be the first to comment on this post below!