Home
/
Blog
/
Blog
/
4 Things That Happen When Your Child Takes Piano Lessons
Wed, Sep 25, 2019 at 4:10PM
---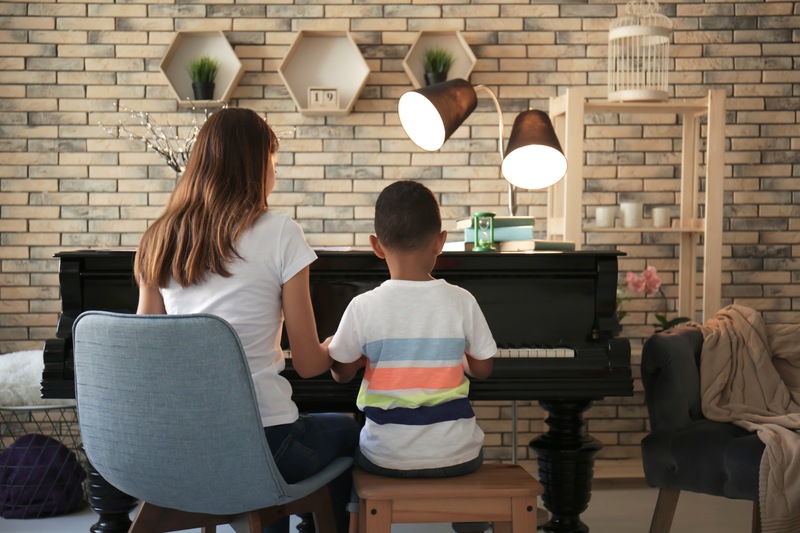 Maybe you took piano lessons as a child. Or perhaps your friends would always carve some time out of the day to focus on practice. You might even be an adult learner who has recently discovered the joy of piano play and music listening, and wish to pass on that passion to others.
Whatever your specific situation, it's good to know that researchers have found exposure to music brings a wealth of benefits. For children, psychology experts assert that includes:
cognitive development
concentration and attention to detail
social interaction
hand-eye coordination
the ability to better handle stress
and much more


Read on to discover some of the other perks of guiding your children and youth on their piano playing journey.
1) Self-Discipline and Attention Span Improve
Child psychologists contend that kids thrive on structure. Along with a detailed schedule at school and home, they say that also includes extra-curricular activities such as playing and performing music.
As with other instruments, hobbies, and activities, improvement depends largely on regular practice and exposure to the endeavor. As your child becomes better at piano play, the likelihood they'll stick with the instrument greatly increases.
One method by which to encourage this type of regular play is to secure a dedicated instrument that's easily accessible, whenever your child is ready. Thankfully, dependable piano movers can transport a high-quality piano straight to your door.
2) Social and Physical Skills are Heightened
As mentioned, mastering the piano requires exceptional hand-eye coordination. Luckily, this skill can be taught over time. The sheer act of playing the piano also helps hone general motor skills and whole body coordination and comfort.
Playing music also aids children to communicate more efficiently. That's because, according to child psychologists, the act of learning a new language (the 'language' of reading music) helps children and youth become more receptive to others.
At Modern Piano Moving, we're proud of our role through the years of helping to provide music education to countless children. We fulfill this commitment by delivering high-quality pianos to locations across the country. International shipments can also be arranged.
3) Confidence and Self-Esteem is Boosted
Everyone likes to be recognized for a job well done. As children improve at piano play, they could even perform short recitals for friends and loved ones. The accolades and encouragement they receive as a result of these programs helps boost their confidence, and makes them feel better about themselves.
When you work with a trusted and reputable piano moving company to have a high-quality instrument delivered to your door, you can begin what could become a life-long musical journey for your child.
4) Family Bonds are Strengthened
You might think that moving a baby grand piano is an arduous and overly-complicated task. But just imagine the amazing benefits doing so could provide to your children and the young people of your family. Along with the mentioned benefits, partnering with a stand-out piano delivery service could be the beginning of stronger family ties among your loved ones.
Since 1935, we've delighted countless piano enthusiasts just like you by safely and efficiently transporting high-quality pianos across the country, and even internationally. That's partly how we've built a solid reputation as the premier piano movers in the nation.
Our trucks are specifically-designed to transport pianos, and our professional movers are well-versed with the care and consideration necessary to safely pack and ship this majestic instrument. Best of all, our warehouses are climate-controlled and security-monitored around the clock. That gives you the peace of mind that your piano is always safe and protected. Contact us today to have a piano delivered straight to your door, and to give your child the enduring gift of learning to play music.
---
Bookmark & Share
---
User Comments
Be the first to comment on this post below!