Home
/
Blog
/
Blog
/
Keep Your Piano Clean and Happy This Summer
Fri, Jul 31, 2020 at 3:12PM
---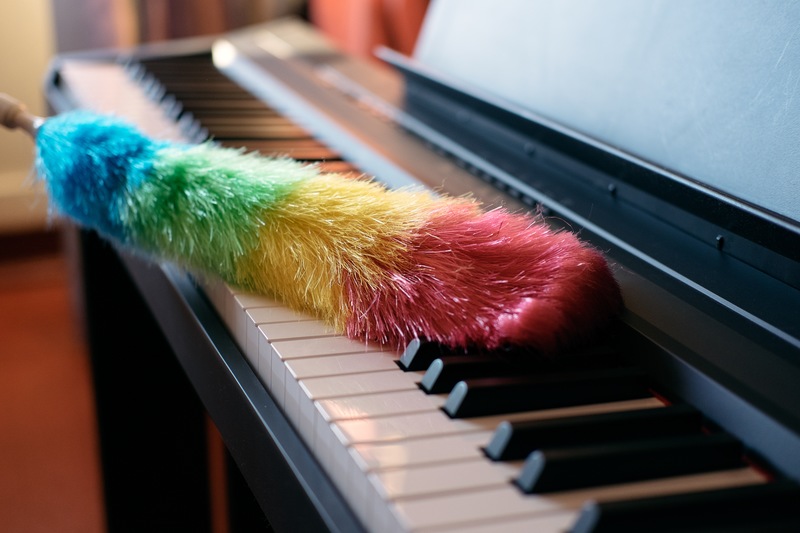 When you show your piano some TLC every day, you can avoid long-term repair and restoration projects down the line! Help keep your piano looking and playing its best with our upkeep tips below.
Dust with a gentle feather duster
By taking less than a minute every day to wipe away any dust or particles on your piano, you can prevent stains and build-up and avoid costlier cleanup down the line! But don't rely on just any old washcloth to get the job done. Piano experts recommend a gentle feather duster, preferably one made for this instrument specifically, to gentle remove particles without harming the delicate finish of your piano. You can even keep a duster handy to remind yourself and your family members to dust as needed.
Add a houseplant to promote fresh air
Your piano is at its "happiest" and most well-functioning when it is in a room with steady humidity (many experts recommend around 50 percent). Wherever you live, adding a live plant to your piano playing space may be able to help promote fresh air, circulation and healthy humidity levels so that your piano is never too dry or too moist.
Keep food and drinks away
If you've ever set a plate of food or a glass of water on your piano, you're not alone. However, even during the carefree days of summer, this is a habit you'll want to break, as hot or cold objects (even with a coaster!) can have a negative impact on your piano's surface and overall function. Plus, you never know when one wrong move can send your food or drink flying all over your keys! So play it safe and make it a rule to keep your meal a safe distance from the piano.
Leave larger-scale projects to the pros
Now that you have the everyday basics down, you may be looking for ways to breathe new life into your piano, or restore a vintage instrument! However, it is often best to leave these larger projects to the pros, as they have the tools and expertise needed to restore your piano without inadvertently damaging it in the process. (Tip: You can browse the Modern Piano directory of piano professionals to find restoration services in your area!)
We hope these tips help you promote your piano's style, function and longevity for years (and decades) to come! Our passion for beautiful pianos extends to our dedicated care and attention in moving them, too. Whether you need piano movers in Indianapolis, New York City, Los Angeles or somewhere in between, contact Modern Piano today to let us help make it an effortless move.
---
Bookmark & Share
---
User Comments
Be the first to comment on this post below!