Home
/
Blog
/
Blog
/
Using The Holidays to Cultivate the Love of Piano In Your Kids
Mon, Dec 19, 2022 at 12:10PM
---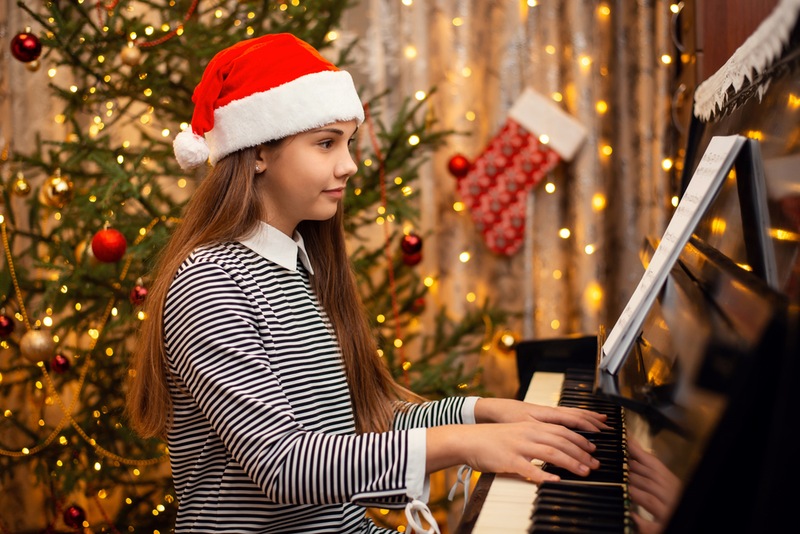 If you have a piano in the house, your family is most likely growing up with the love of music being instilled in them. That's the magic a piano brings into our lives, and the holiday season is the perfect time to cultivate a special love of this instrument in the youngest members of your home.
You are probably aware of the valuable benefits of playing the piano in a child's development. So, take advantage of the abundance of time in these holidays, as the season of joy fills our days, and make some memorable moments with your children.
Here are some ways to get started:
How to Know if Your Children Are Ready to Play
If you have young children, you may be wondering whether they are too young to start piano lessons. To start playing the piano, they need to be old enough to have enough finger strength to press down on the keys as well as hand coordination and fine motor skills. This basically means that they should be able to hold a pencil or a scissor in their hands. But the fact is, no matter what age your kids are, it's never too early. The younger the age, the more fun you can make these sessions! An atmosphere at home that encourages listening to different kinds of music, or singing as you play familiar tunes, is a great way to stimulate their interest in the instrument.
Simple Starts
Capture your young one's interest by letting them pick out their favorite songs or poems for you to play as you both sing along. This can be as simple as the wildly popular tune Baby Shark, a classic from the musical Sound of Music, or even just a sweet poem from your own childhood. Have them join you on the bench and learn a few keys. A surefire but easy way to get them excited is to turn a favorite song into a duet and then once the routine is cemented, perform it for the family. Kids love taking center stage, as the claps and praises are a real boost to their confidence.
Explore and Absorb
Being open to new songs and welcoming different genres of music are ways to expand and enrich a child's musical taste. In accordance with their age, gently introduce new songs to add to their memory. You can gradually go a step further and have them selectively listen to the piano in a song to train their ear, and learn how it fits in with other instruments. If they're old enough, help them recreate the riff on your own piano. The success of doing so will open doors of curiosity and independent learning.
Turn to Story Time
Creativity is key when it comes to keeping the flame of interest alive in children. Use storytelling to your advantage by asking them about their favorite fairy tale and turn it into a song, the verses of which you can both build upon. Children will love to experiment with a character familiar to their imagination.
At Modern Piano, we know that a piano is priceless in terms of how much beauty and joy it adds to life. If you are ever required to move your piano to another location, the nation's most trusted piano moving company Modern Piano Moving are ready for the job. We're not just any moving company, but specialized cross country piano movers with professionalism and quality care at the heart of our mission, and decades of dedicated experience that sets us apart.
---
Bookmark & Share
---
User Comments
Be the first to comment on this post below!