Home
/
Blog
/
Blog
/
How To Decorate Around Your Piano This Holiday Season
Mon, Dec 19, 2022 at 12:07PM
---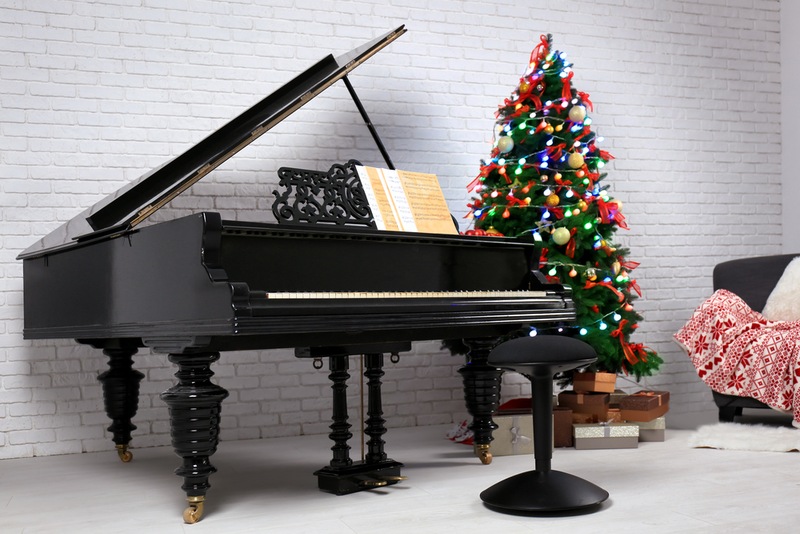 Although your piano even by itself is enough to transform a room's appearance into something grand, decorating around your piano is something every homeowner enjoys doing – especially during the holiday season.
Winter brings in a whole new collection of colors, textures and fragrances into your home and there is no reason why your piano's position and surrounding décor can't make the most of these seasonal changes as well.
Here are some ways you can change and uplift the location and décor of your piano this holiday season:
Placement and Position
If your piano has been tucked away in a closed room all year to keep it safe from children, pets, and weather elements, now is the time to perhaps consider bringing it out into a more central area of your home so that the whole family can enjoy playing it and singing around it. There are so many holiday memories associated with music and there is no better season than this one to have your family get together and make more musical memories that you can cherish for years ahead.
When bringing it out to a central part of your home, make sure it is positioned away from fireplaces and other heating elements that could harm its appearance and components. Pianos, as grand as they appear, are actually very fragile instruments and to ensure they continue performing well, it is very important to protect them from direct sunlight and fluctuating levels of temperature and humidity.
Keeping the Surface Clean
While lighting up candles and filling up your home with pine scented fragrances is a common practice for anyone trying to create a cozy and warm ambiance during winter, you need to make sure your beautiful instrument remains away from such items. Lit up candles and other sharp or prickly ornaments that you might be decorating your home with should not be kept on the surface of your piano as they can harm the exterior and cause some irreparable damage to its smooth surface.
Adding Color and Beauty
You don't want the beauty of your piano to be overshadowed by other items in your room so it wouldn't be a bad idea to keep most of the décor in that spot neutral. You can bring in a pop of color with some indoor plants and wall artwork that be placed near your piano to bring more attention to it while lifting the mood of that space. Allowing your piano to blend into the background is something you don't want to do this holiday season so pushing it far into the corner of the room may not be a good idea. You also want it to remain accessible with a fair amount of space around it so you can easily dust and clean it when required.
At Modern Piano Moving, we couldn't be more excited about this beautiful holiday season making its way towards us. We are aware that this is also a time when several people are going away for the holidays, relocating, or remodeling their home for a fresh start in the coming year. At such a time, care for your piano is a big priority and we are there to take charge, whenever required. From storing it in climate-controlled storage while you are away or relocating it carefully to a different room – or even home, we have it all covered.
As experienced and dedicated cross-country piano movers, we understand the level of trust our clients put in us when handling their precious instrument. Each instrument comes with its unique dynamics, and we make sure to provide our services accordingly. Call us now to learn more about how we can help you move your piano this holiday season!
---
Bookmark & Share
---
User Comments
Be the first to comment on this post below!