Home
/
Blog
/
Blog
/
Unpacking Made Fun
Mon, Aug 21, 2017 at 9:50AM
---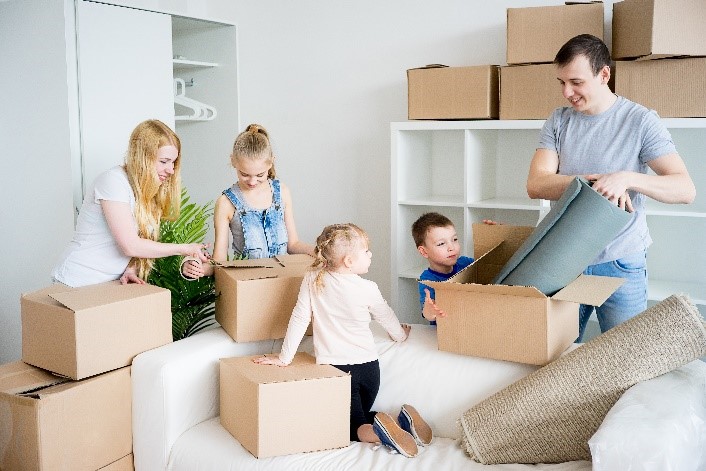 Unpacking Made Fun
We think it's safe to say everyone agrees that the worst part about moving is the packing process.
It's time consuming and challenging, but Modern Piano has come up with a few ways to fight that pattern.
Keep reading to learn how you can make unpacking a fun and easy way to bond with your family and new home.
Divide and conquer
First things first, when you're packing your boxes make sure you label them in some way, shape, or form. Label each room with its own unique color or symbol. The kitchen can be a star, master bedroom a circle, whatever works.
When you get to the new house label each door with the symbol you put on your boxes that way you, or the movers, know exactly where to put each box. Once each box is in its appropriate room, the real fun starts!
Let the games begin
This is usually the part where people just sit and stare at boxes until they magically unpack themselves. Now that you have a solid basis on where to begin, create a game that will move the unpacking process along.
Set up a timer, and see who can unpack the most boxes before the alarm goes off. Offer a prize at the end as a nice incentive.
Set it and forget it
Now that everything is out of the boxes, it's time to organize. Everyone likes to feel right at home right away so do what you can with the time you have left.
The biggest objects like beds, couches, dressers will already be against walls so now it's time to arrange your décor and important items just how you like them.
The after party
You may be asking yourself what to do with all your empty moving boxes when really you should be asking your kids and pets.
Not all, but some of the boxes are great for kids to use their imagination- create houses, air planes, or mini art museums. Believe it or not, they will want to play with their new toy for days, and pets love the idea of that too. Remember to always supervise this play session!
Tips and tricks
Something families tend to forget the vacation strategy. Before you begin packing, set aside one box or suitcase filled with everything important. As much as you'd like for your house to be unpacked in one day, it's highly unlikely.
Fill this important luggage with a few changes of clothes, toiletries, pet food, and anything else you will need to hold you over. Don't forget important documents and electronics- like chargers and laptops.
We know the moving process can still be stressful no matter how fun you make it. If you need some help, at least with your piano, then give us a call. And the best part is, when using Modern Piano, you don't have to wait until moving day to call us. We can store your piano in our climate controlled and monitored warehouse until you're ready!
---
Bookmark & Share
---
User Comments
Be the first to comment on this post below!