Home
/
Blog
/
Blog
/
Pets and Piano Fun: 3 Ideas from Your Trusted California Piano Movers
Sun, Aug 23, 2020 at 9:32PM
---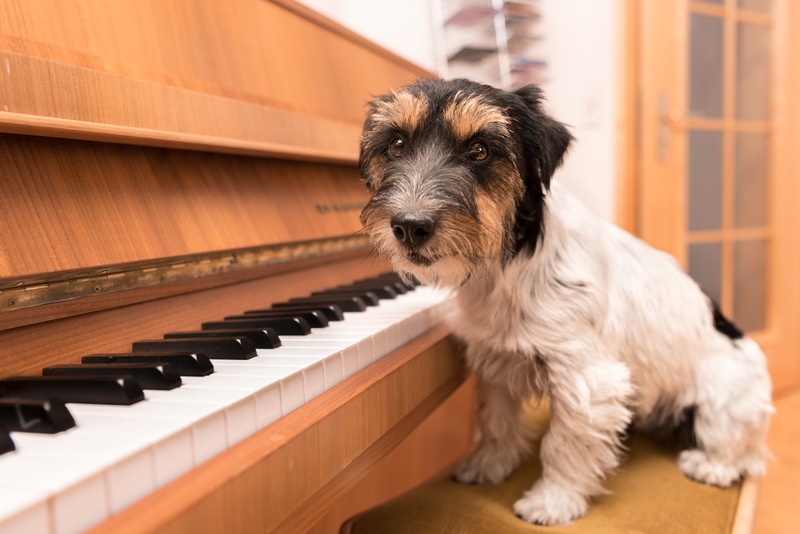 You love your furry friend like family—so why not share your favorite pastime with them? There are several ways to get your pet involved in piano fun this fall! Just read on as we share a few of our best ideas.
Teach your pup to play
It's always fun to teach a pet new skills and party tricks, and playing the piano is an especially great one! Of course, even the smartest dog or cat may not be able to accurately tell a whole note from a quarter, or F-sharp from B, but they can still tap on the keys for fun. According to Wag!, an online dog walking and training resource, you can help teach your dog to play much like you would any other trick—encouraging the action (tapping on keys with their paws) with a reward (a favorite snack) to build long-term positive associations!
Create a cozy pet corner
Some studies suggest that our furry friends are able to be soothed by classical music—even when in potentially stressful environments, like a busy kennel. However, if your dog or cat likes to hang out near you as you play, chances are they simply enjoy spending time near you (just as if you were curled up on the couch with a good book or TV show). Help give them a cozy place to relax as you play, such as a dog bed or cat tower, so your pet has the perfect front-row seat to the show.
Add some fun and games
These days, there seems to be an endless supply of dog and cat toys to choose from in fun themes! Bring home a piano-themed dog or catnip toy so your pet can share your passion for this beloved instrument. Another fun option is to have your pet stomp around one of those magical piano floor mats (a la Tom Hanks in "Big") to see them make music while simply strolling around the house.
We hope that these ideas help you enjoy piano time with your pet to the fullest! Whether they become a furry protégé or simply stick around to watch you play, your experienced team of California piano movers can help move your instrument safely to your new home—so you can continue the years and years of piano fun with your pet. Contact us today to learn more and get started.
---
Bookmark & Share
---
User Comments
Be the first to comment on this post below!