Home
/
Blog
/
Blog
/
Locating Model and Serial Numbers on Your Piano
Sat, Oct 26, 2019 at 2:25PM
---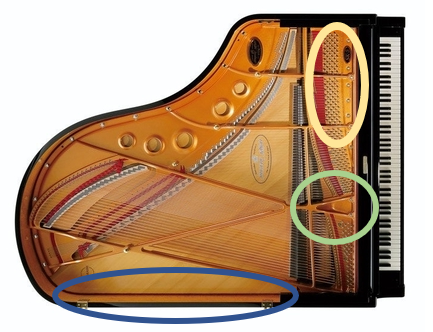 When quoting a piano move, the instrument size is extremely important for accurately determining the number of movers and type of equipment needed. Because piano manufacturers differ in their descriptions, the best way to communicate your piano size is to provide a make and model number. Please note that the serial number will not provide the piano size, however, if your piano is going to be picked up or delivered at a business, it may be beneficial to provide your mover with the serial number as well.
Depending upon the brand, the model number can be in different places. The information and images below provide general information and brand specific areas. If you cannot find any serial or model numbers, your piano may have been refurbished and the number plate, if there was one, was not put back on or the number was covered.
Serial Numbers – Generally 4 to 7 digits long
Model Numbers – Are often a letter or start with a letter
GRAND PIANOS
Open the lid and look above the keyboard area.
Look in front of the soundboard in either corner.
Look along the inside plate holes or it may be in one of the circles stamped into the soundboard.
The number may be stamped under the piano.
VERTICAL PIANOS
Open the back panel. Look at the top back, all the way across.
If not stamped into the top, look between the tuning pins.
The number may be stamped on the back of the piano.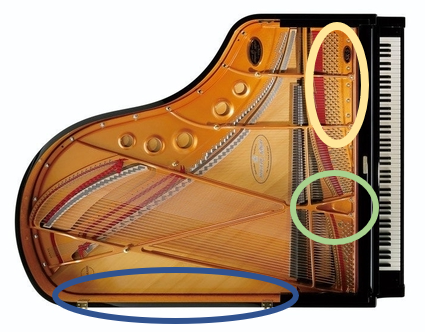 Yellow: Bosendorfer / Kawai / Samick / Story and Clark / Yamaha / Young Chang
Green: Baldwin / Mason Hamlin / Schimmel / Steinway
Blue: Kimball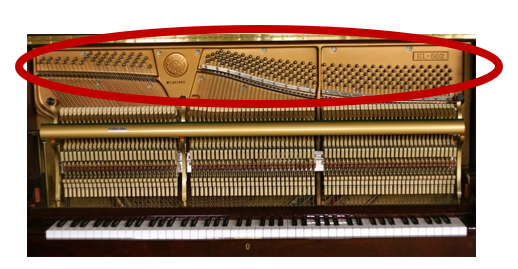 If the model number is not stamped in the circled area, it may be on the back
---
Bookmark & Share
---
User Comments
Be the first to comment on this post below!