Home
/
Blog
/
Blog
/
Is Your Child Ready for Piano Lessons?
Fri, Nov 30, 2018 at 3:25PM
---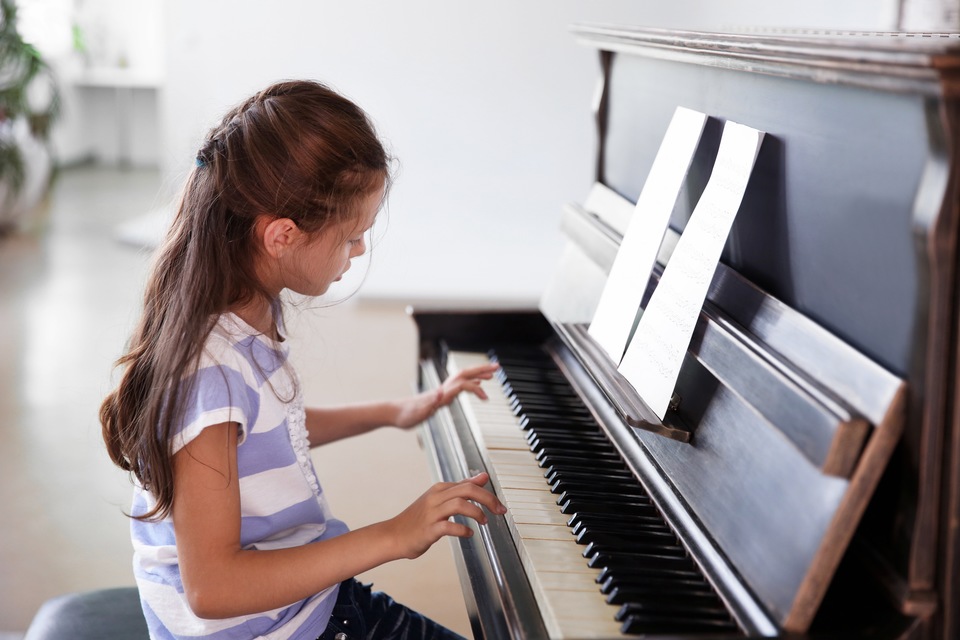 As a caring and supportive parent or guardian, you want what's best for your children. So, it's natural that you're focused on exposing them to as many new experiences as possible. One of those is an introduction to the rewarding world of playing music.
Still, it can be difficult to know exactly when kids are ready to start piano lessons. There are many factors involved, including individual considerations. Thankfully, specific steps help you know when youth are prepared to begin piano lessons. Get started with this advice.
Gauge Interest
The best way to tell how your student feels about the piano is to simply ask. While some kids are shy or hesitant, you can usually recognize a spark of interest or desire to learn something new. It's also helpful to begin with "baby steps." Allow your child to become comfortable around the instrument and explore. This could even mean simply pressing the keys and noticing how each produces a different sound and tone. Gaining familiarity in this way will help your student know if they wish to continue with the piano.
Some kids will ignore the piano for months, and then suddenly take up an interest. You just never know when the inspiration to play will strike. That's why it's best to have reliable access to a quality piano in your home. Contact a trusted and reputable piano delivery service to discover how simple and affordable it is to achieve this goal.
Foster Realistic Guidelines
No child is going to become the next Mozart of Brahms overnight. Even the revered masters of classical music had to start somewhere, and most of them spent decades perfecting their craft. When children are expected to meet an unrealistic or extremely difficult standard, many of them will become frustrated or emotionally overwhelmed. As a loving parent or guardian, you certainly don't want to place your student in that scenario.
So, it's wise to understand that learning the piano will likely be a process for your child. At the same time, you can set and agree on clear expectations and goals. For instance, your child could strive to perform an intimate recital for close friends and family. Or perhaps there are certain chords and melody progressions they can learn in a pre-determined time. Make sure to reward these small accomplishments. Accolades and recognition go a long way to ensuring long-term commitment and success.
It's also helpful to remember that while moving a baby grand piano may seem like an arduous affair, skilled and qualified cross-country piano movers have the resources and expertise to bring this instrument to your door. At Modern Piano Moving, we ship across the country and even internationally.
Practice Patience
Every student is unique and each will have their own mental, emotional, and physical readiness and capacity when it comes to piano lessons. By remaining calm and collected, you demonstrate to your child that it's okay if they need some time to warm up to the instrument.
You can also make the process easier and more comfortable by catering to kids' needs from the start. For instance, purchasing a chair or bench with an adjustable height ensures your student will be comfortable while sitting at the piano. If your current piano is too large or awkward, consider teaming with a piano moving company who can help you place a more appropriate instrument.
Beyond logistics, try to discover what your child finds most interesting about the piano. Later, set aside time to discuss these discoveries. This makes piano playing less of a chore and more of a favorite activity.
Secure a Reliable Instrument
Sometimes, mere proximity to a piano is enough to encourage young players to advance their interest in and talent with the instrument. Thankfully, there are piano movers near Los Angeles who can help transport this majestic instrument to your exact location, anywhere in the country.
Since 1935, Modern Piano Moving has delighted countless budding musicians by safely and securely storing and delivering pianos. No matter the size, shape, or weight, our dedicated full-time staff members can provide expert assistance. That's partly how we've become the go-to resource for Philadelphia piano moving.
Plus, with climate-controlled and security-monitored warehouses, you get the peace of mind that your piano is always in safe hands. Contact us today to discover how simple, affordable, and straight-forward it is to have a high-quality piano shipped straight to your door.
---
Bookmark & Share
---
User Comments
Be the first to comment on this post below!