Home
/
Blog
/
Blog
/
How Often Should You Tune a Piano?
Thu, Apr 04, 2019 at 11:50AM
---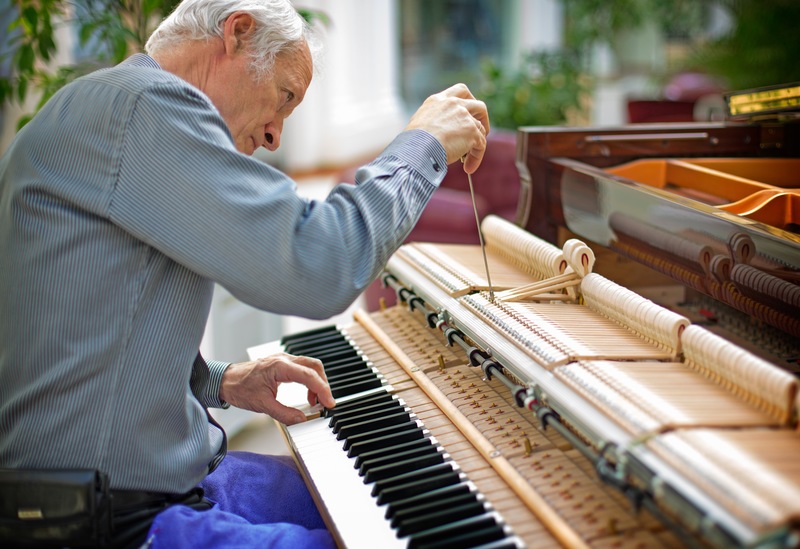 With proper tuning, care, and maintenance, your piano can provide decades of faithful service and enjoyment. The trouble is, it's not always easy to determine exactly when the instrument needs to be tuned. You understandably want to avoid paying for service that's not necessary. At the same time, you don't want to neglect an issue that could lead to bigger problems (and costly repairs) down the line. It's a real dilemma. But it doesn't have to be.
By following a few simple guidelines, it's easy and straight-forward to keep your piano in top working order all year long. Use this advice to get started:
Regular Maintenance
Piano experts say it's a good idea to have the instrument tuned at least twice a year. If you've recently purchased the piano (or if it's been in long-term storage), you might require even more tuning initially to get the piano sounding the way it should. Additional tuning might also be necessary if the instrument gets heavy use. This is true for pianos in concert halls, at schools, those instruments used for lessons, and other similar situations.
Tuning ensures the piano's strings and other mechanisms are working together properly. The inner workings of your piano are very sensitive and delicate. Without proper care, your piano could be irreversibly damaged.
If you have an instrument in a different location and have been wondering how to move a piano, it's nice to know that professional assistance is available. At Modern Piano Moving, our trucks are specifically designed to move pianos. Our expert team members are well versed in securing and transporting all makes and models of pianos in various sizes, shapes, and dimensions.
After Climate Fluctuations
Swings in heat and cold can wreak havoc on your piano. In addition, if you live in a locale that experiences high humidity levels for all or part of the year, your piano will require additional tuning. That's because the wood casing of your piano is highly sensitive to climate conditions. When the wood expands or contracts, it affects the quality of sound that your piano produces.
In addition, high humidity causes keys and action parts to swell and stick. The steel strings could also begin to rust. Over time, this could lead to major repairs and the possible need for piano replacement.
If you have a piano that's being exposed to the elements in a different location, it makes sense to have the instrument transported to an area where you can keep closer tabs on its day-to-day care. California piano movers who will treat your piano with the care and respect it deserves are available to ship the instrument anywhere across the country.
Following a Move
If you've recently relocated your piano (including over only a short distance), it's a good idea to schedule a tune-up. Along with the mentioned temperature fluctuations, even minor jostling can cause the delicate inner workings of your piano to shift. This will produce an inconsistent sound and could lead to larger problems down the line.
You might also have a piano in another location, just sitting around waiting to be played and appreciated. Why not make this the year you finally bring the instrument to your current locale? The process is simple and straight-forward when you partner with Houston piano movers expert at transporting pianos across the country, and even internationally.
When Something Seems Off
If you're a piano player, you'll likely be able to detect sound inconsistencies just by playing the instrument. Even if you're simply a music enthusiast, it's often easy to notice potential problems. That's when it's best to call in a professional for a thorough inspection and tuning.
You might even have a piano in another spot, and have been hesitant to have it brought to your current location, as you contemplate piano movers' prices. The reality is that moving your piano is simple and affordable when you partner with a responsible piano moving company.
Since 1935, we've delighted countless music aficionados across the country by shipping pianos across the contiguous United States. International shipments can also be arranged. That commitment to customer service is partly how we've earned a solid reputation as the premier piano movers in Indianapolis and across the country. Contact us to schedule your piano move, and begin reaping the benefits of playing and listening to music today.
---
Bookmark & Share
---
User Comments
Be the first to comment on this post below!