Home
/
Blog
/
Blog
/
4 Ways to Re-Ignite Your Joy of Music
Fri, Jul 20, 2018 at 1:20PM
---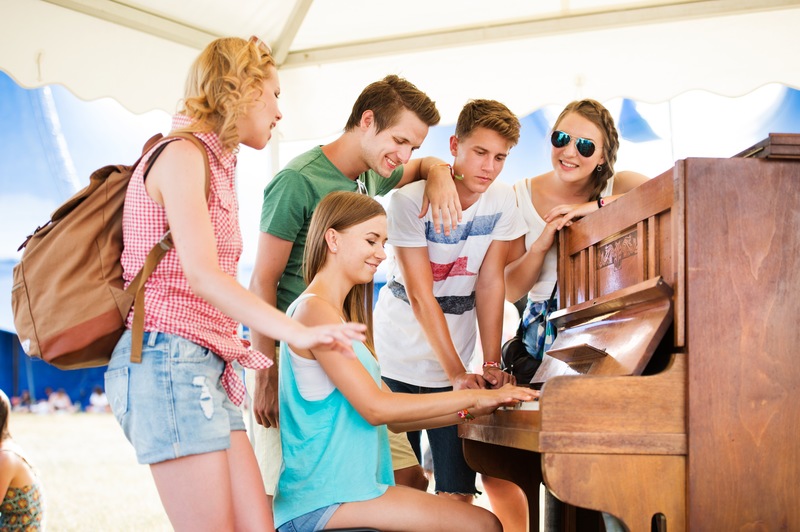 In an era of handheld technology and increased connection to work and school duties, it's easy to allow favorite hobbies to fall by the wayside. However, psychologists contend that embracing methods by which to relax and unwind can improve mood, general fulfillment, and positive interaction with co-workers, friends, and loved ones.
That's why it's important to everyday set aside some "me" time, where you can re-center and achieve a calming and peaceful state of mind. One popular choice is listening to and performing music.
Often referred to as the "language of the soul," music has the power to conjure up pleasant memories of past enjoyment. Here's how you can use music to improve your quality of life:
1) Optimize Your Schedule
Famous actor, bodybuilder, and former California governor Arnold Schwarzenegger tells a story about when he was filming the movie Conan the Barbarian. Due to the tight schedule, it was difficult to log exercise time. So, from a 30-minute lunch break, he'd use 15 minutes to eat and the other 15 to work out.
The idea is similar to the old cliché: "where there's a will, there's a way." Along with the mentioned benefits, music teachers assert that even just 10 minutes per day of playing or listening to music does wonders toward comprehension and ability.
2) Revisit Old Favorites
These days, music stores (and online outlets) carry a wide variety of sheet music. You can easily select and purchase anything from Disney musicals, to Top 40 hits, and of course any number of classical selections. Many budding and established musicians find variety the key to continued involvement and interest.
If you took music lessons in your youth, dust off those books and see how well you remember playing favorite songs. If you're new to playing, visit a local music store (or thrift shop) to discover exciting possibilities.
When you're more comfortable listening, there's a wealth of published music available. Many artists today also choose to release new music in older formats such as vinyl. In addition, online options such as Spotify, Pandora, and others can help you re-ignite a musical passion that's gone dormant.
3) Make It a Challenge
Most people love a friendly competition. Make music fun again by creating a social media contest. Who can find the most obscure musical selection in their local record store? What do you remember from your favorite music videos from times past? How quickly can you get up to speed playing a modern tune on your instrument of choice?
Coupling fun and thought-provoking ideas in this fashion not only helps you rediscover favorite musical selections, but you'll also bond with friends and loved ones over your shared passion for playing and listening to music.
4) Bring the Music to You
Sometimes the reason for music dormancy is simply an issue of space and/or logistics. For example, larger instruments (such as tuba, string bass, drums, and others) are difficult and awkward to transport and store. Piano is another instrument that can't be folded and tucked in a vehicle trunk or locker. Rather than abandoning future plans of musical performance, it's best to investigate all available options. That includes modern piano moving.
Some people are perplexed about how to move a piano while others have concerns about the piano shipping cost. However, working with a trusted and reputable company will help you discover convenient and affordable options to store and transport your piano.
Long revered as the best piano movers in Indianapolis, we transport pianos across the contiguous United States. We can also make arrangements for shipment from Alaska, Hawaii, and select international locations.
Our climate-controlled trucks and constantly-monitored warehouses ensure your piano is safe and protected at all times. Contact us today to learn more about our process, and how easy and efficient it is to move your piano.
---
Bookmark & Share
---
User Comments
Be the first to comment on this post below!