Home
/
Blog
/
Blog
/
4 Reasons Your Piano is Out of Tune
Sun, Jan 06, 2019 at 4:00PM
---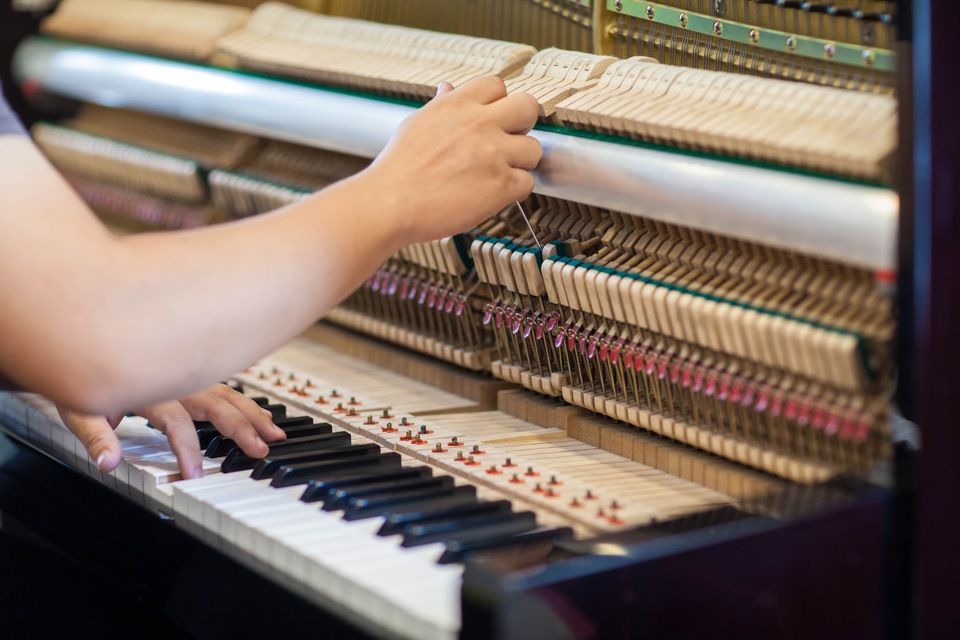 Nothing's worse than sitting down at the piano and hearing a sour sound. Your piano's out of tune, and enjoying a nice practice today is all but impossible. But there's no reason to fret. The good news is that there are many qualified professionals who can help get your piano into professionally-sounding shape in no time.
Still, sometimes you just want to know the root of the problem. Maybe there are things you can do to prevent your piano from going out of tune so often. Glean valuable insight and keep your piano sounding great every day of the year with these suggestions.
1) Normal Use
Out-of-tune pianos are often a good sign. How could that be? Your piano is a delicate instrument that changes slightly with each use. So, when it goes out of tune, it could just mean that you're playing piano a lot — filling your home with joyful music.
On the opposite side of the spectrum, sometimes pianos go out of tune when they're left alone. Of course, keeping it this way for long periods of time is not recommended. As with any other maintenance, addressing tuning issues helps prolong the life of your instrument.
So, if you have a piano sitting in another location, now's a great time to have it shipped directly to your doorstep. Skilled and qualified California piano movers can safely and quickly transport your piano anywhere in the country (even internationally). That means you could be playing piano again before you know it.
2) Weather Changes
Pianos are built with natural wood which is susceptible to humidity and temperature swings. High humidity causes wood to absorb moisture. This expands the instrument casing, which can alter the sound. During drier months, piano strings slack, creating an overall tune that just sounds off.
Piano placement also contributes to tuning changes. For instance, it's best to avoid open air vents, windows, and direct sunlight. Experts at Houston piano moving can offer other valuable insight on how to care for this majestic instrument.
3) Your Piano Has Been Jostled Around
Despite claims to the contrary, not everyone is an expert when it comes to piano logistics. Some disreputable moving companies will try to convince you they have years of experience when the reality is that they've never moved a piano in their entire career.
By contrast, Modern Piano Moving has been safely and expediently transporting pianos across the country and even internationally since 1935. Over that time, we've built a solid reputation as a stand-out piano delivery service with unmatched customer service. In short, we care about your piano as much as you do. Our highly-trained technicians always take the utmost care and consideration when moving these delicate objects.
4) Other Scenarios
It's difficult to diagnose specific piano issues without actually putting hands on the instrument. Similar to fixing a vehicle, it's best to team with skilled and qualified professionals who can make an accurate diagnosis, and then perform necessary repair and upgrade work.
As mentioned, sometimes the issue behind an out-of-tune piano is simple lack of use. Luckily, that's a problem that can be easily solved by partnering with a piano moving company who can bring a high-quality instrument right to your door.
You want and deserve a professional moving company that puts a priority on quality and care. At Modern Piano Moving, our warehouses are climate-controlled and security monitored every second of every day of the year. That means your piano will always be protected. Plus, we transport pianos to and from locations across the country. International shipments can also be arranged. As a new year begins, it's an ideal time to re-discover your joy of music. Contact us today to learn more about how simple and cost-effective shipping a piano can be.
---
Bookmark & Share
---
User Comments
Be the first to comment on this post below!