Home
/
Blog
/
Blog
/
Picture-Perfect Piano Decor
Wed, Feb 21, 2018 at 12:15PM
---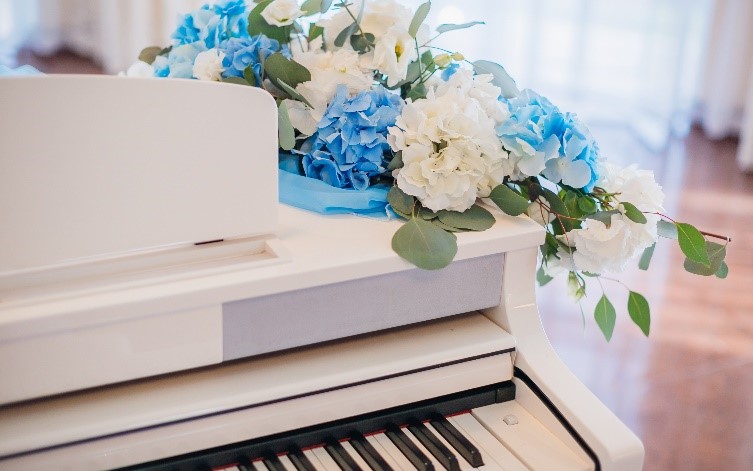 You've got the piano and the playing technique to boot—now you just need to dress up your piano in style!
Fortunately, of course, your instrument does most of the work for you. Whether your piano's a concert grand or sleek upright, its finish and profile are sure to "wow" friends and family alike.
Still, you might want to add your own personal touch. That's where we come in! Read on for a few of our favorite, simplest ways to achieve picture-perfect piano décor.
Keep it simple
Like we mentioned above, your piano does the bulk of "decorating" for you, adding an unmistakable air of sophistication wherever it is placed.
To let the piano really shine through, keep additional décor simple and sweet. When possible, let your piano anchor the wall it's placed on instead of crowding it with additional furniture or gear—it should be the star of the show!
"Frame" your piano
Just like you might place a photo in a frame, surround your piano with something special, too! You can add a favorite tapestry to the wall behind your piano, for example, or add an accent pop of color to the wall it faces—something fun and unconventional that'll balance out the traditional form of your piano nicely. For something extra daring, you can even opt for a wallpaper or paint-based mural to provide visual interest as you play and your guests look on.
Add floral accents from above
Since you don't necessarily want to place lots of vases and other decorative items on your piano itself, why not add floral accents from above? This is a great time to add some greenery via hanging planters—leaves and flowers can drape themselves over the top of your instrument, creating a delicate, elegant effect without damaging the piano's surface.
Make it personal
Who do you play for? Who taught you to love piano? Some players find comfort in hanging up photos of their friends and family on the wall nearest their piano. The result is very personal, a meaningful way to mark your space and make it truly one-of-a-kind.
We hope that today's blog helps you achieve the picturesque piano setup you've been dreaming of! Back up your stylish new setup with a few of your favorite tunes, and your piano will be an unstoppable music machine.
---
Bookmark & Share
---
User Comments
Be the first to comment on this post below!