Home
/
Blog
/
Blog
/
Long Distance Piano Movers - Service Comparison
Wed, Oct 30, 2019 at 2:29PM
---
BASIC PIANO MOVING OPTIONS
Brokers: A Broker is a middleman. They have a list of preferred movers that provide discounts for volume. The final customer does not benefit from these discounts. In fact, inflating the price is how the broker generates income. Reputable brokers do use reputable movers. Price and communication delays are the downside of a brokered move. Never hesitate to ask if you are speaking to a moving company or a broker when requesting a quote.
Household Movers: Household movers are typically professionals at moving boxes, furniture, appliances, etc. Rarely will they have the expertise needed to move a piano or an organ. Moving pads are thinner and generally, draped without strapping. Household moving trucks are not set up to secure items in the trailer and there is no climate control of any type.
Local Piano Movers: Although experts in their field, most local piano movers have a 50 – 100 mile maximum service area.
LONG DISTANCE PIANO MOVING SPECIALISTS
The Other Guys: Specializing in the long-haul portion of the move only, your typical long-distance piano mover hires a local 3rd party to pickup and deliver at your residence. Unfortunately, this means that your piano is being transported by three separate companies and has possibly been put on three different sets of equipment. Piano condition is recorded by the initial local mover and provided to the customer by the last local mover. The source of possible damages small or large at the time of delivery, will be determined by the carrier. Climate control can have various meanings. Many nationwide piano movers believe that heat does not negatively affect a piano, therefore they do not provide cooling in the summer months. Heat is generally provided during the colder winter months.
Modern Piano Moving: Modern Piano is a different type of nationwide piano mover. We handle the entire move from start to finish. We either park our tractor trailer in your neighborhood or provide a shuttle service using a smaller truck or ATV/custom trailer combo. Instruments are handled by Modern Piano employees. If you have a more specialized move with steep terrain or steps, we will hire labor from the local area to assist with balance and weight. Your piano travels on the same equipment throughout the move and it is insured up to the market value you assign. Our trucks are designed to move your precious cargo at the optimum temperature and humidity levels using a reefer, while secured to our E-track system, in our trailer with air ride suspension.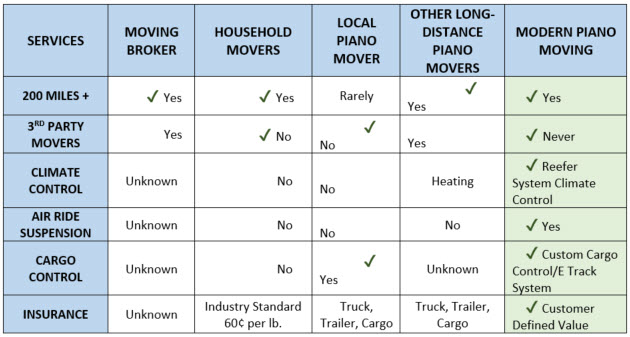 Modern Piano Moving is your premier nationwide piano mover! Our system provides the safest possible transfer of your instrument. To learn more about why we're different, check out the following pages on our website:
Building Our Own Moving Equipment
Climate Controlled Piano Storage
We love to take pictures! We have a huge gallery of piano move photos. Get to know how we pad and prep a piano for moving, see our staff in action, and get a glimpse of our trucks in neighborhoods.
Shopper Approved is one of the 500 fastest growing companies in America and we use their services for customer reviews. Please see our review page to see what customers are saying about our service. Always a reliable source, we are also a Better Business Bureau accredited company!
Better Business Bureau – Modern Piano Moving
If you would like a quote for your piano move, we have the most comprehensive tool on the web! If you prefer to speak with a live person, our sales staff is ready to help you Monday thru Friday from 8:00 AM to 6:00 PM central time. Give us a call at 800-737-5600 and choose option 1 for sales.
---
Bookmark & Share
---
User Comments
Be the first to comment on this post below!