Home
/
Blog
/
Blog
/
4 Piano Care Essentials
Tue, Aug 14, 2018 at 4:45PM
---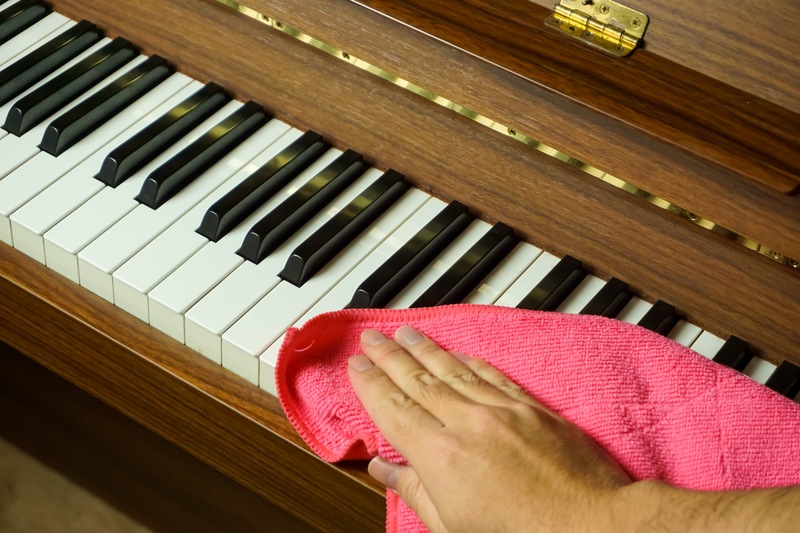 Buying a high-quality piano is likely one of the largest purchases you'll ever make. To secure an instrument in good working order with the potential to last for years, you should be prepared for a solid investment.
That stated, proper care and maintenance is essential to the long-term durability of your piano. Doing so can keep this instrument in the family for decades. Use these basics to get started:
1) Cleaning
Some people overlook the importance of keeping the piano's exterior free from dirt and debris. More than aesthetics, regularly dusting and cleaning your piano prevents dust and foreign objects from clogging keys and the mechanical inner workings of the instrument. We recommend using a slightly damp cloth or cleaning product made specifically for pianos when doing this.
No matter where you live, the elements can wreak havoc on your piano. Sunlight fades, cracks, and even warps the finish. Excessive moisture causes corrosion and deterioration of metal components. Even the simple flow of air can dry out the wood casing of your piano, causing premature wear.
When it's time to move your piano, be sure to work with only licensed Steinway piano movers who will take great care to protect the instrument.
2) Regular Maintenance
During the first year of service, piano builders recommend four tunings. Later, you can schedule two staggered tuning sessions per year. This is similar to your six-month dentist checkup.
Strive to keep a consistent temperature where your piano is stored. Extreme fluctuations in climate and humidity can wear the instrument's finish and reduce the life of your piano by decades.
In addition, it's important to refrain from touching the inner workings of your piano. Discourage children and others from doing so. Pianos are very delicate instruments. Any deviation can cause unbalanced sound and/or the need for professional repair.
3) Frequent Play
Playing the piano often will not only improve its longevity, but will also contribute to an increased quality of life for you. Your mood will improve and you'll reach your musical goals faster with regular practice. In addition, frequent play helps you detect problems before they can turn into major issues.
You might have a piano in another locale that you could be playing right now. That's when it's wise to partner with cross-country piano movers who can safely and efficiently move the instrument to your current location, so you can reap the benefits again.
4) Proper Storage and Transport
Despite their large size, pianos are fragile and must be treated with the utmost care. Never attempt to move a piano on your own. That can easily cause damage to the instrument, as well put yourself and loved ones in harm's way.
You also shouldn't work with a company that's not well-versed in moving pianos. Instead, reach out to a reputable piano delivery service that can help safely and effectively transport this item to its new destination.
For more than 80 years, we've moved thousands of pianos across the country and even internationally. The most trusted Houston piano moving, we deliver to and pickup pianos from locales across the contiguous United States. Shipments to/from Alaska and Hawaii can also be arranged.
In addition, our climate-controlled and security-monitored warehouses keep your instruments safe and secure around the clock. Contact us today to discover all the piano moving options available to you.
---
Bookmark & Share
---
User Comments
Be the first to comment on this post below!