Home
/
Blog
/
Blog
/
10 Holiday Songs Anyone Can Play On the Piano
Tue, Nov 13, 2018 at 4:50PM
---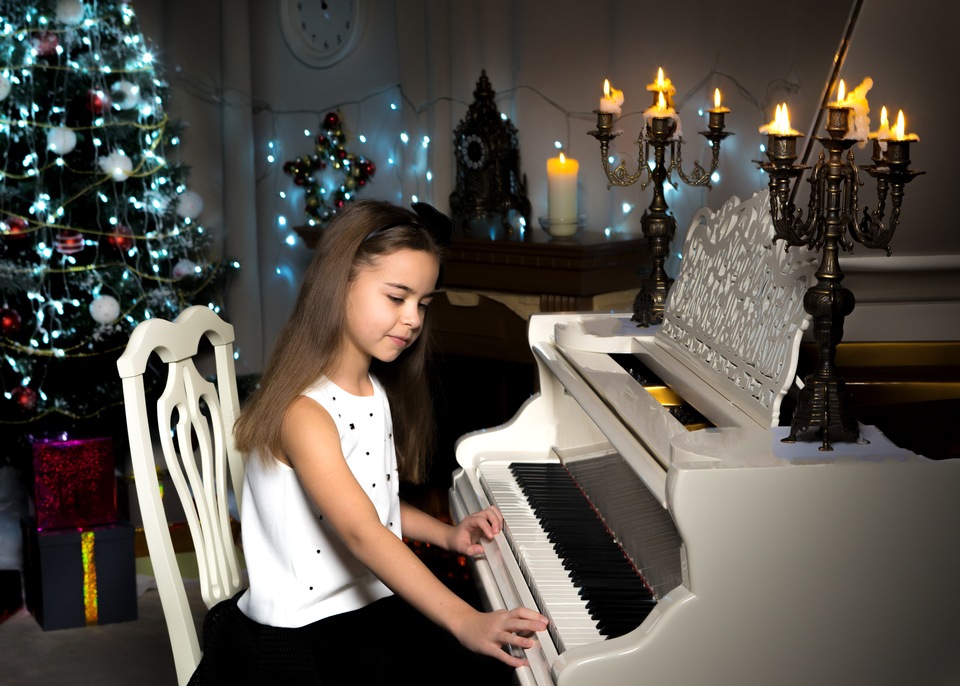 The holidays are right around the corner. As family and friends share their stories, chat about the latest trends and events, and gather around the fire—or the dinner table—one form of entertainment unites us all—music.
This year, entice your family to gather around the piano by playing some classic and modern holiday jingles. Many of these tunes are easy to learn and all include lyrics that everyone can follow along to. Plus, there's still time to practice and become music-ready for the holidays, so stretch your fingers, prepare your piano and let's get started!
All I Want for Christmas is You
A Christmas favorite every year, this one is a must on our list! It's a pretty fast song to play so it may be a little challenging—but we're sure it'll gather everyone in the household to channel out their inner Mariah Carey and sing along! Check out our favorite take on the song.
Baby, It's Cold Outside
Many parts of the country are experiencing chilly weather. Since it's already a common conversation topic, why not sing about it? Just kidding! Kind of...in all seriousness, this classic holiday jingle is a call and response duet that is perfect for the men and women in the room to perform together.
Frosty the Snowman
A kid favorite, play this jolly tune and invite the young ones to sing along. Then, if it's snowing outside, get inspired and build a snowman—or a snowwoman.
Rudolf The Red-Nosed Reindeer
"You know Dasher and Dancer and Prancer and Vixen. You know Comet and Cupid and Donner and Blitzen. But do you recall, the most famous reindeer of all?" Teach the kids about the famous hero of Christmas, Rudolf the Red-Nosed Reindeer. Then after, watch the beloved stop-motion animated movie.
Let It Snow
Did you know this chilly song was actually inspired by the lack of snow due to a heat wave lyricist, Sammy Cahn, and composer, Jule Styne, were experiencing in Hollywood, California? Ironically, this song has become a winter holiday staple to sing while it's snowing outside!
Feliz Navidad
This joyful song pairs great with everyone's Christmas excitement. However, if you want a slower, more ballad version of the song that is equally enjoyable, check out this version of the song.
White Christmas
You can't have Christmas without playing the best-selling Christmas song of all time! According to the Guinness Book of World Records, the version sung by Bing Crosby has sold over 50 million copies worldwide.
Where Are You Christmas (From How The Grinch Stole Christmas)
The popular 2000 film brought up one of the most beloved and digitally downloaded Christmas singles—Where Are You Christmas. It a slow, beautiful song with a positive message that not even the Grinch could say no to. Listen to a beautiful piano cover of the song here
Last Christmas
The love-struck in the room will love taking a part of singing along to this famous WHAM song. Take a look at this sheet music of a ballad version of the song here.
We Wish You a Merry Christmas
Of course, we can't celebrate the Christmas holiday without singing along to "We Wish You a Merry Christmas." This is the perfect song to wrap up the Christmas celebration with and then transition to the New Year holiday.
We know one of the very best ways to celebrate the holiday season is with music, especially if it's a gift. If you're sharing the wonders of music to a loved one by gifting a musical instrument, you can send (or store) it with us! For storage, moving, and all other needs, be sure to call Modern Piano today. We're here to help make your season as seamless and enjoyable as possible.
---
Bookmark & Share
---
User Comments
Be the first to comment on this post below!