Home
/
Blog
/
Blog
/
The Dangers of DIY Piano Moving
Mon, Oct 22, 2018 at 4:45PM
---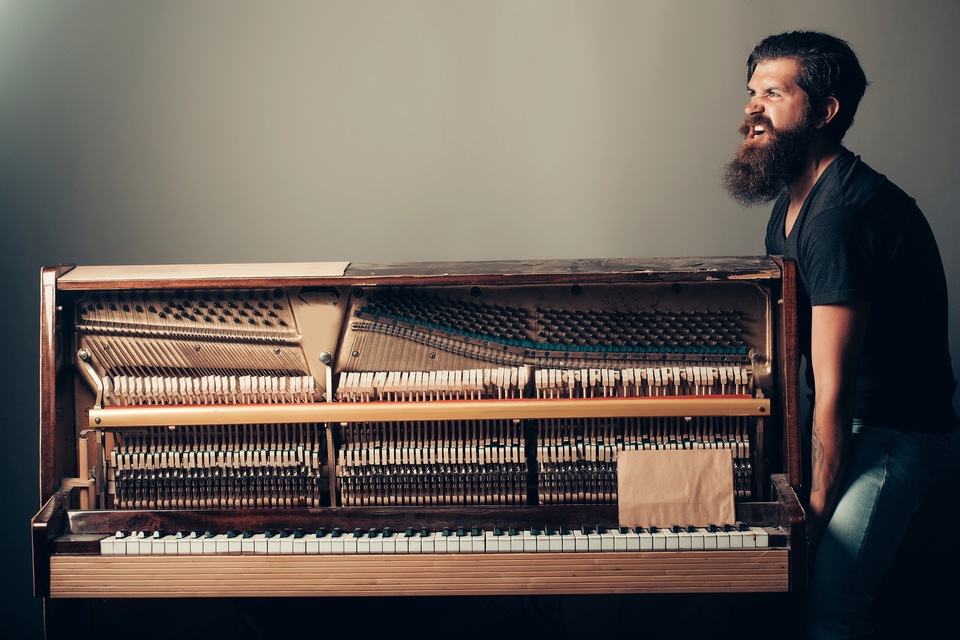 Moving a piano takes great care and skill. Trying to relocate it on your own could cause unsafe situations. It could also permanently damage your instrument. Why take the risk? Despite increased interest in do-it-yourself (DIY) projects, there are some tasks that require a professional touch. That includes preparing and shipping a piano.
Luckily, it's easy and affordable to partner with a reputable piano moving company. Read on to discover other potential pitfalls of DIY piano moving.
Damage
Your piano is a delicate instrument with many intricate working parts. Lack of caution adds up to costly repairs. In some cases, you might even have to purchase a new piano. Who has the time or resources for that?
In addition, inexperienced movers are prone to miscalculations that cause property damage. Dinged walls, broken door frames, and scratched floors are just some of the potential problems. If you own your home, leaving such damage could make it more difficult to sell. If you rent, you could be on the hook for hefty maintenance bills. At the least, you risk having to forfeit your deposit.
By contrast, when you work with New York piano movers well-versed in the preparation and transport of your instrument, you get the peace of mind that the job will be done safely and efficiently. Plus, you can rest assured that your piano will arrive at its final destination in one piece and without damage.
Injury
Some pianos rival small cars in their size and weight. That means an injury from improper piano moving could easily be catastrophic. Hospital visits and medical treatment are very expensive. So, the money you saved with DIY piano moving could pale in comparison with sky-high hospital bills.
Then there's the potential of unintentionally hurting kids and pets. Such injuries could result in fatal complications. Living with that knowledge would be unbearable. Thankfully, you can avoid those dangers and hypothetical scenarios by partnering with a reliable piano moving company.
Modern Piano Moving has been in business for more than 80 years. That tenure gives you the peace of mind that your piano will always be moved and stored with the utmost care and consideration.
Liability
Damage and injury resulting from improper handling and transport of your piano could also result in a lawsuit. Even if you win your case, the fallout from legal action is far-reaching. Your reputation could be irreversibly damaged. In addition, friendships and business relationships could be ruined forever. Why put yourself in that compromising position?
At Modern Piano Moving, our crews are full-time piano movers. Our trucks are specifically-designed for piano transport. Plus, our warehouses are climate-controlled and monitored by video surveillance around the clock. Fully-licensed and insured, we have a stellar track record of outstanding customer service and piano shipping/storage success. All that simply means when you work with us, your piano is in the hands of qualified and dedicated professionals.
Uncertainty
There are many reasons why you might consider moving a piano on your own. Perhaps you just like DIY tasks. Maybe you're concerned about the piano moving cost. Or you might not have been previously aware of options for how to move a piano. That's why we're here.
We proudly transport pianos of all sizes to and from all 48 states. Shipments for Alaska, Hawaii, and even internationally can also be arranged. In addition, over the years we've been trusted by well-known musicians such as Chuck Berry, Elton John, Lady Gaga, the conductor of the National Symphony Orchestra, and more. Join their ranks by contacting us today. Learn how safe, affordable, and straight-forward it is to transport your piano with Modern Piano Moving.
---
Bookmark & Share
---
User Comments
Be the first to comment on this post below!