Home
/
Blog
/
Blog
/
A Guide to Safely Moving Your Piano in St. Louis
Tue, Aug 22, 2023 at 9:20AM
---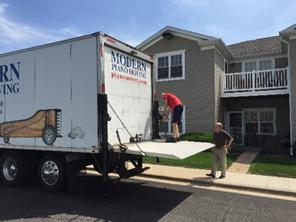 St. Louis is known for its iconic Gateway Arch and vibrant musical culture – and it's a city that celebrates its heritage. If you are part of the many who've found a new home in this beautiful city and are faced with the challenge of moving a piano, we're here to help. As daunting as moving such a large and delicate instrument can seem, there are steps you can take to ensure the process is as seamless as possible. In this blog, we'll dive into a step-by-step guide on how to safely move your piano in St. Louis.
Proper Pre-Move Preparation
The first thing you should do before attempting to move your piano is to come up with a thorough plan. This is an essential step. You should start by determining the weight and size of the instrument. This can be found in the manufacturer's specifications or by contacting a local piano technician. Once you have this information, measure spaces like doors, hallways, and any tight spaces that could make moving the piano more difficult. You should have an idea of what route you'll take to move the piano. Having all of this done ahead of time will make the process a lot easier when it comes time to execute the move.
Hire Professionals
While some moving tasks can be a DIY project, moving a piano isn't one of them. If you're uncertain about the process, hiring professionals who specialize in piano moving in St. Louis, like Modern Piano Moving can be a game-changer. Not only do they possess the physical strength, but they also have the training and equipment needed. They also have the necessary experience to navigate the city's streets and safely transport your prized instrument. Hiring a professional service to move your piano will make the process as stress-free as possible. It will also give you piece of mind knowing your piano is in good hands. Although it might seem like an extra expense, ensuring that your piano makes it to your new home without any damages is priceless.
Insurance and Other Precautions
Next, before moving, check your insurance. Having insurance while moving that covers things such as a piano is a precaution you will want to take. Many companies offer specific policies for musical instruments. However, if hiring professionals, they should have liability coverage. Additionally, document the current state of your piano. Make sure you take clear pictures of every aspect of the piano in the rare case that it does get damaged in transit.
Factor in St. Louis's Weather
St. Louis is known for its humid summers and chilly winters. This is definitely something to take into account when moving, since pianos are incredibly sensitive to temperature and humidity changes. If possible, avoid moving during extremely hot, cold, or rainy days. When moving the piano, the movers should wrap it properly to keep it out of the elements. This is another benefit of hiring a company like Modern Piano Moving. We make sure your piano is protected, no matter what the weather is like.
Post-Move Care
After safely relocating your piano, you might think the job's done. However, the post-move phase is just as crucial. Allow the piano to settle in its new space. This means giving it time to adjust to the room's temperature and humidity. After about a month, consider hiring a piano tuner to adjust any potential out-of-tune keys. Pianos often go out of tune after being moved, and this adjustment will ensure it sounds its best in its new home. It's also important to pay attention to where you place the piano in your home. Try to keep it away from any large windows or doors. This will ensure it stays in the best condition possible.
Moving a piano in St. Louis (or anywhere, for that matter) can be a significant undertaking. However, with the right planning, tools, and professional help, it can be done successfully and safely. Modern Piano Moving is here to help this process go as smoothly as possible. Whether your piano is a family heirloom or a recent acquisition, it's worth the effort to move it with care. After all, in a city as musically vibrant as St. Louis, your piano is bound to be a centerpiece in many memorable moments to come. Get an instant quote today!
---
Bookmark & Share
---
User Comments
Be the first to comment on this post below!