Missouri Piano Movers Affiliates
Pianocraft 5371 S Woodcliffe Dr
Springfield ,MO 65804
(417)881-3035
Steinway Piano Gallery - St. Louis MO 12033 Dorsett Rd
Maryland Heights ,MO 63043
(314)344-1133
Modern Piano Moving Customer Reviews
Anonymous Customer
| Missouri, US
The movers did an excellent job of moving our piano. Our piano is an older model and very heavy. It had to be moved outside and down a grass slope to our basement. It was obvious that these movers had lots of experience and were very professional. I would highly recommend Modern Piano to anyone considering moving a piano.
Thank you again! The service was great! It saved me a lot of time and headaches by having the piano moved instead of struggling to do it myself!
Upon contacting Modern Piano from the very beginning they were kind, very interested in my needs and always courteous on the phone. The three delivery men who picked up the piano were very nice and explained what they were doing to move my baby grand piano and why they were doing it. The two men who delivered the piano were just as efficient and gracious as they put the legs back on the piano asking before they left if there were and questions or concerns as well as encouraging me to inspect the piano before they left. The one gentleman encouraged me to wait a few weeks to have it tuned so the piano could get use to the new environment. I was VERY pleased with Modern Piano and would recommend them to anyone!
We have a Kawai 6'1" conservatory grand and were moving homes a distance and Modern Piano took care of everything! Very professional, excellent communication throughout the entire experience. They picked up the piano and took it to their climate controlled warehouse then delivered it three weeks later (in their climate controlled truck) to our new house which was 120 miles away from our old house but on their routes. I got two different crews and both sets had worked for the business for over 10 years, seems like they hire quality people. I didn't want the piano sitting in a hot moving truck for a week while I changed houses so this worked really well. Modern Piano was recommend to me by my Piano tuner when I told him I was having trouble figuring out how to keep our piano out of a hot moving truck for a week while we changed homes.
Moving services & more for your piano
We move all types of pianos including organs and more.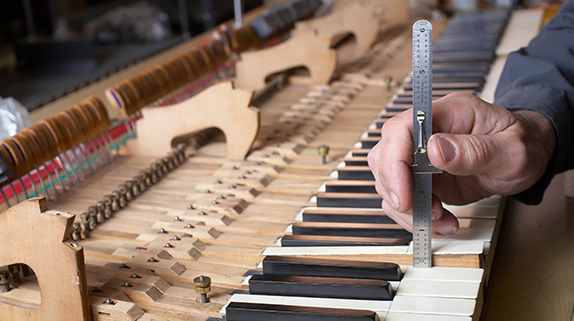 Click an instrument below to start your instant piano moving quote.
Modern Piano Moving Photos
We've helped move pianos for thousands of happy customers.
Piano Moving Blog
Join our mailing list to receive more articles like these and our latest promotions.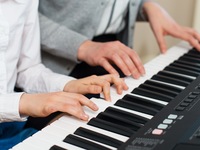 You already know that playing the piano can lead to relaxation, improved academic performance, fond family memories and a myriad of other benefits. All that's left to do now is to start!
Read More
We can help you move any brand of piano, including:
Begin a piano moving quote by clicking your piano brand or click other.
Moving services available for all types of pianos
Begin a quote by clicking on an instrument below.