Modern Piano Moving Customer Reviews
Loretta Gardner
| New York, US
Misty the first contact was, clearly spoken, calm and not rushed. For many of us sending our pianos to new homes is quite emotional. I imagine that many of us do not communicate through the computer that well either. Misty was patient through the whole process. I was sending two pianos to two different sons in two very opposite directions. She made it possible not only physically but with compassion. When the men arrived at the scheduled time they were clean, organized, efficient with each move, protecting my treasured pianos like they were China. They were careful in my home to not topple anything and let things back in the space the had been when they arrived. The lead man was organized with the paperwork. And then on to the next house for the second piano. I have much gratitude for how my property and myself were treated.
Heather Payne
| New York, US
Estimate was done promptly. Pricing fair although not inexpensive. Very good communication/email re: confirmation of details, dates and time for pickup and delivery. Excellent time from pickup to delivery. Staff who picked up and delivered piano were very good to work with. Piano was well wrapped for move and was delivered in excellent condition at a very convenient time. All in all, a pleasant and easy experience for this customer. Many thanks to you and the men who did the actual move!
Jean & Greg Tranchina
| New York, US
Excellent company to deal with extremely professional and efficient. Was referred by the place we bought the piano and did motvdisappoint. The quote given was accurate did not bait &switch. Scheduling exceeded expectations the gentlemen that came to pick up piano were friendly and professional and careful The piano was in climate controlled storage from pick up to delivery (my concern was damage but not a scratch!) delivery was exceptional. Saturday delivery ran late due to truck issues but these guys kept their promise and delivered it at 9:30 pm Tired but dedicated to the job, they placed the piano exactly where we wanted it We could not asked for such a perfect experience as what we had with modern piano mover from start to finish ! Eleven starrs no joke! Wish everything in our move made us this happy.
Hickey's Music Center
| New York, US
They made what could have been a very complete transaction incredibly easy. Driver and helped super friendly and efficient. Highly recommended.
Moving services & more for your piano
We move all types of pianos including organs and more.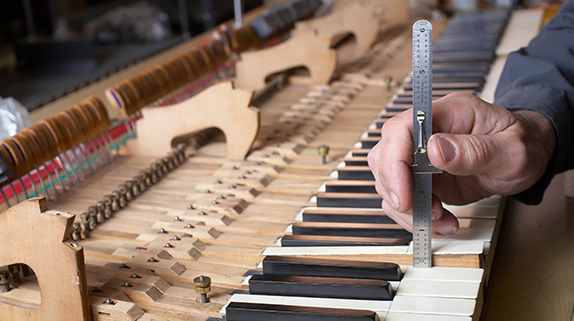 Click an instrument below to start your instant piano moving quote.
Modern Piano Moving Photos
We've helped move pianos for thousands of happy customers.
Piano Moving Blog
Join our mailing list to receive more articles like these and our latest promotions.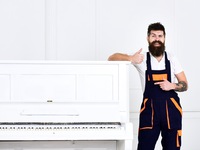 Many families have a few extremely valued heirlooms that get passed from generation to generation and carry great personal meaning. In many cases, these heirlooms also have monetary value and are worth protecting and keeping in great condition, especially while being moved from place to place. A family piano is a valued heirloom, and if you're planning to pass the instrument down to the next family member who wants it, it's important to go about it the right way. Though pianos are very hefty, they are also incredibly delicate and can easily be damaged during transit if experts do not handle them. Think you might be saving trouble by moving the piano yourself instead of hiring a piano moving company? You might want to reconsider! Taking this route could end up in damage to your precious family heirloom as well as your vehicle if the piano isn't properly moved. At Modern Piano, we are professional piano movers that have seen first-hand how valuable instruments can be damaged beyond repair by improper moving techniques.
Read More
We can help you move any brand of piano, including:
Begin a piano moving quote by clicking your piano brand or click other.
Moving services available for all types of pianos
Begin a quote by clicking on an instrument below.